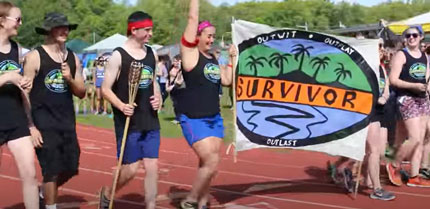 LIME 24-Hour Relay
Location
CHS Plateau Field
200 Richardson Road, Chelmsford, Mass. 01863
The 24-hour relay is a fun annual CHS event in which teams of 8-12 students walk around the plateau field, and participate in awesome activities to raise money and have fun. It's like a big sleepover outside! In addition to this, there are a bunch of fun events that happen throughout the day including:
Theme laps
Movies
Food Trucks
Midnight Ice Cream
Water gun fights
Winning fun prizes
And much more!
Get your friends together and get ready to walk!
WHEN IS THE RELAY?
24 Hours: May 21, 9 a.m.-May 22, 9 a.m.
REGISTRATION DEADLINE:
May 6
HOW DO I PARTICIPATE?
Form a team of 8-12 members with 1 adult coaches
Join as an individual (you will be placed on a team)
Volunteer with LIME to help run the event
Help sponsor teams! If you can't make it, you can still donate to help friends participate and give to local charities
IS THERE A COST TO PARTICIPATE?
Yes, each member of a team is required to make a $40 donation, but participants can raise the money however they would like. All of the money will go to local charities.
HOW DO I REGISTER?
All forms will be available through a Google Doc found on @chelmsfordlime on instagram or in your school email. All materials will be due on May 6. Registration fees are due by May 6 to Ms. Tammy Leary in Hawthorne House. Checks can be made out to: Chelmsford 24 Hour Relay