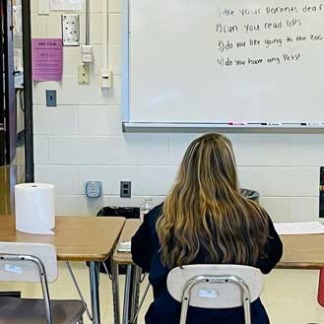 American Sign Language Thriving at Chelmsford High School
in News
When a high school student considers which world languages to study, Spanish, French and German come to mind, probably in that order. Mandarin, Arabic or even Latin might draw consideration.
American Sign Language (ASL) usually isn't even a passing thought. But some good folks in the World Languages department at Chelmsford High School are changing that.
Midway through its first year as a world language credit and an elective course, ASL 1 has drawn 170 students at CHS. Forty-four students – making up two classes – are studying ASL 1 for their world language requirement, while the rest enrolled as an elective for the first half of the academic year.
"My half-year students are wishing it was full-year," said first-year ASL teacher Meghan Fitzgibbons.
This time last year, Jess Nollet, World Language and Cultural Exchange Program Coordinator, was compiling the results of a survey she conducted among students, teachers and parents to find an additional world language curriculum CHS could offer. Mandarin was very popular – an increasing number of Massachusetts schools are offering it – but ASL won out.
"I did a lot of work last fall looking at language programs at different schools to get some inspiration," said Ms. Nollet. "We had an ASL club here, which helped in our decision. There was a real interest here."
As of 2019, 33 schools in Massachusetts offered ASL, said the Department of Elementary and Secondary Education (DESE).
Finding an instructor was another hurdle. ASL instructors are in high demand, yet there are so few. Ms. Nollet, however, didn't need to search far. And the timing could not have been better.
A member of CHS Class of 2016, Ms. Fitzgibbons had graduated from Assumption College in May 2020 with a degree in speech and language pathology. Having learned ASL on her own at CHS, she chose ASL as her language requirement at Assumption and is currently pursuing level 4, the interpreter level, while she teaches full time.
"It's been wonderful," Ms. Fitzgibbons says of her experience thus far. "The kids are so interested in the language. They're the ones who fought for this class. There were students enrolled before they even hired me."
It is the ASL students who are proving to be the program's best public relations tool. The ASL Club, started in 2019 by English Language Arts Coordinator Abbey Dick, remains popular and a middle school ASL club will begin meeting this week. "Our students have been telling each other about it, and we're finding more and more want to sign up," Ms. Fitzgibbons said.
CHS will offer ASL 2 next year for current students as well as ASL 1 for incoming freshmen and other students interested in pursuing ASL for their world language requirement. One section of the ASL elective course will also be offered.
"The goal is to add a level every year," Ms. Nollet said.
No student is more thankful for the ASL program than junior Allie LoCoco, who was born deaf but received a cochlear implant when she was 18 months old. Though the implant vastly improved her hearing, she learned basic sign as a toddler (as did her parents). By her early teens, however, she said she "grew out of it," but rekindled her passion several years ago with online courses.
While she excelled with her online coursework, she longed for the social interaction of learning to sign.
"I was so ecstatic when they announced they were offering (ASL 1) as a world language credit," Ms. LoCoco said. "I love sign language so much, and I'm so happy that so many people have an interest in it."
As a member of the varsity soccer and basketball teams at CHS, she has taught her teammates and coaches some basic signing. With mask mandates for both sports, reading lips – so vital for a hearing-impaired person – has become impossible.
In working with Ms. Fitzgibbons, Ms. LoCoco is far ahead of her peers and figures her competency is about level three. She plans to implement ASL in her career endeavors, in either psychology or education.
"I'm happy to share the passion I have with other people," she noted.