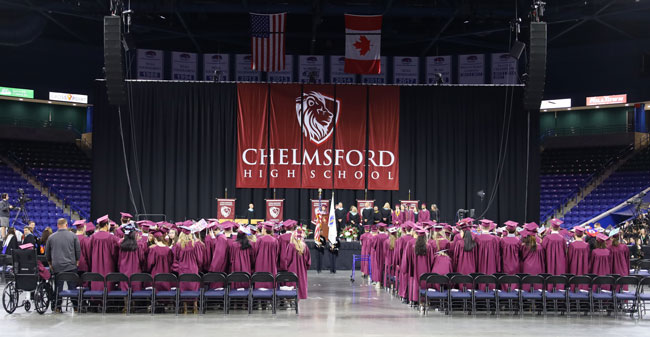 'We Are Warriors': Chelmsford High School Class of 2023 Lauded for Perseverance, Countless Qualities
in News
Town of Chelmsford's 106th graduation confers 317 diplomas
LOWELL, MA (June 5, 2021) – There is a line in the Chelmsford Public Schools' mission statement which reads, 'to educate, engage, prepare, and empower well-rounded and knowledgeable learners who persevere through challenges…'
Perseverance has largely been the theme of the previous three graduating classes of Chelmsford High School, and it was very much part of the message for the members of the class of 2023 who were freshmen when schools were closed in March of 2020 due to the Covid-19 outbreak.
Chelmsford Public Schools conferred 317 diplomas Saturday afternoon at the 106th Town of Chelmsford Commencement Ceremony at the Tsongas Center.
The message, however, wasn't just for the Class of 2023. Superintendent Jay Lang applied it to Chelmsford's educators, counselors, administrators and support staff in every capacity in his opening remarks.
"You would not be here today without the individuals who made it possible: Your teachers, counselors, administrators and support staff who have gone above and beyond to make sure you received the finest education, especially during these past few Covid years," he told the seniors. "You certainly persevered over the last few years as Covid constrained our educational programs. You will be better for it."
Saturday's commencement marked the second straight return to the Tsongas Center following the 2021 commencement ceremony at socially distanced George Simonian Alumni Stadium and no ceremony in 2020.
While each speaker offered profound wisdom, praise and advice, the most moving moment of the ceremony came near the end of the conferring of diplomas. Senior Nik Sperounis, who has been battling angiosarcoma for nearly two years, came to the stage to receive his diploma and drew an emotional minute's standing ovation.
Donna Newcomb, Chair of the Chelmsford School Committee, kept her remarks brief – less than two minutes – but her poignant message about maintaining values resonated:
"When we use our values to make decisions, we make a deliberate choice to focus on what is important to us," she noted. "Life can be much easier when you acknowledge your values and beliefs and you make decisions that honor them. As graduates, you will decide what your values are and use them to guide your actions as you go forward in your education, employment, relationships and community. Use them to create a future you can be proud of."
CHS Principal Stephen Murray honored the retirements of three individuals whose tenures impacted thousands of Chelmsford students:
Lauren Cochran, Drama Educator for 26 years: "Over her many years, her productions received countless awards ranging from acting, set design and scriptwriting," Mr. Murray noted. "She made Chelmsford High School's performances the quality of many Broadway shows."
Diane Cogliano, Art Educator for 24 years: "'Cogs,' as her students affectionately called her, was always up for the challenge. She created new courses in her unending mission to support the interests of all her students. Ms. Cogliano is one of the main reasons why our visual arts program is spectacular."
Dan Rosa, Psychologist for 30 years: "Dr. Rosa created a student model unlike any model in the public schools of Massachusetts. He created a partnership with Antioch University. Through this partnership with Antioch and through his vision, Dr. Rosa was able to attract other like-minded, student-centered clinical psychologists to work in Chelmsford. Our district benefitted from this in so many incalculable ways."
Salutatorian Marty Coleman, also the Class of 2023 President who will attend Dartmouth this fall, lauded the many accomplishments of his class and echoed the collective perseverance it displayed the last four years.
"When we entered the building as a class for the first time in 2019, we knew not of the challenges that awaited us both personal and collective. But we met those challenges with nothing short of ferocity. We are a class of warriors, and not just in the lunch line," he quipped.
Before the traditional passing of the gavel to Rohan Madhukumar, the incoming Class of 2024 president, Mr. Coleman challenged his classmates to celebrate their resolve. "I encourage you to reflect on the times you've been tested and challenged," he said. "Remember the times you've had to get up and fight after some of the hardest falls in your life. Remember the times you helped someone else recover from their own falls. Remember how you found the eye of the storm and became stronger because of it."
Senior Class Treasurer Jash Bhut, who was a key influence in bringing the Project 300 non-perishable food drive to the High School, announced the Class of 2023 gift: A $5,000 donation to the Lions Pride North Pre-School at CHS to construct a new playground. "We believe that at such a young age you must be surrounded by a positive environment," said Mr. Bhut, who will attend the University of Massachusetts in the fall. "This is why the Class of 2023 is going to do its part to help these kids have a positive environment around them."
Valedictorian Prateek Motagi, who will attend New York University, delivered remarks celebrating the uniqueness of the Class of 2023 and what each member will bring to their next destination. "The world needs people like us," he noted. "People who exemplify grit and humility. And it is through these qualities that we will make humanity shine."
Senior Class Vice President Jonah Abraham introduced Matthew Witte, the featured speaker chosen by the Class of 2023, who offered his profound advice for the class: Avoid a plan B.
"Set big goals and prove people wrong and prove yourself to be right," Mr. Witte said. "Think of your main goal as Plan A. Do not have a plan B. Focus on your plan A. Attack your plan A. Think of plan A as the mountain that is located at the center of an island. Your wooden boat is heading that way and you are the captain. Once you deal with all the obstacles to reach the beach area of the island, jump in the sand and burn the boat – with adult supervision of course. Head towards the mountain. Give yourself no option except success. Plan Bs are boring. Conquer plan A."
Throughout, Mr. Witte had the full attention of the Class of 2023.
"Senior class of 2023, expect to get kicked in the face," he added. "Recover quickly. Take chances. And attack your plan A."
About Chelmsford Public Schools
The Chelmsford Public School District provides all students with multiple pathways to optimize their own potential for academic excellence, leadership, and social and emotional wellness. The mission of the Chelmsford Public Schools is to educate, engage, prepare, and empower well-rounded and knowledgeable learners to PERSEVERE through challenges, demonstrate RESPECT and INTEGRITY in their words and actions, are DEDICATED to their community, and display EMPATHY as global citizens while discovering and pursuing their full potential. This PRIDE-driven culture enables all members of the school community to support the growth and development of students. For more information, please visit www.chelmsfordschools.org.