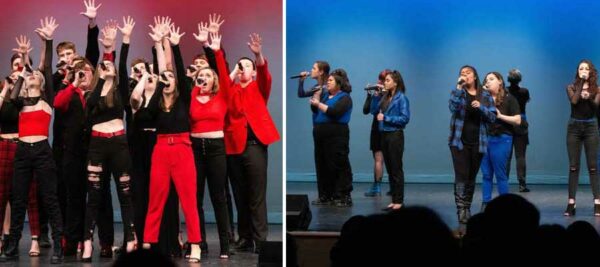 Chelmsford High School Hosts NE Voices 2022 Festival Saturday
in News
In-person tickets sold out; livestream available for $5
CHELMSFORD, MA (Feb. 3, 2022) – Chelmsford High School will host the NE Voices 2022 A Cappella Festival Saturday (7 p.m.) at the Carl J. Rondina Performing Arts Center.
Tickets have sold out as only a limited number were available due to Covid-19 concerns. The event will be livestreamed in full, however, viewable for $5.
Chelmsford High School's award-winning a cappella groups The Thursdays and The Crescendos are among eight high school a cappellas scheduled to perform. Both are fresh off stellar 2021 competitive seasons which saw The Thursdays advance to the Varsity Vocals International Championship of High School A Cappella (ICHSA) national championship while The Crescendos progressed to the ICHSA Northeast Region final.
"This is a great chance to tighten up their sets," said Amanda Roeder, CHS Choir Director and Advisor to The Thursdays and The Crescendos. "We have several more groups coming for the workshops and to watch the performances. The focus of the day is very much on education and building community."
Other a cappellas include Northern Lights and Spectrum of Plymouth North H.S.; The Soundwaves of Medfield H.S.; Voices of Steel, representing Wakefield H.S.; Voices ReChoired of Marlborough H.S.; and NOTEorious of North Reading H.S.
Throughout the afternoon, each a cappella will attend workshops and masterclasses. At 7 p.m., each a cappella will perform in front of a panel of judges and receive feedback. Additionally, Boston-based a cappella Elevate will perform.
The NE Voices Festival is a tune-up of sorts for the competitive a cappella season, which begins with the ICHSA Northeast Region Quarterfinal Sunday, Feb. 13 (3 p.m.) at the Galvin Middle School in Wakefield.
About Chelmsford Public Schools
The Chelmsford Public School District provides all students with multiple pathways to optimize their own potential for academic excellence, leadership, and social and emotional wellness. The mission of the Chelmsford Public Schools is to educate, engage, prepare, and empower well-rounded and knowledgeable learners to PERSEVERE through challenges, demonstrate RESPECT and INTEGRITY in their words and actions, are DEDICATED to their community, and display EMPATHY as global citizens while discovering and pursuing their full potential.  This PRIDE-driven culture enables all members of the school community to support the growth and development of students.  For more information, please visit www.chelmsfordschools.org.