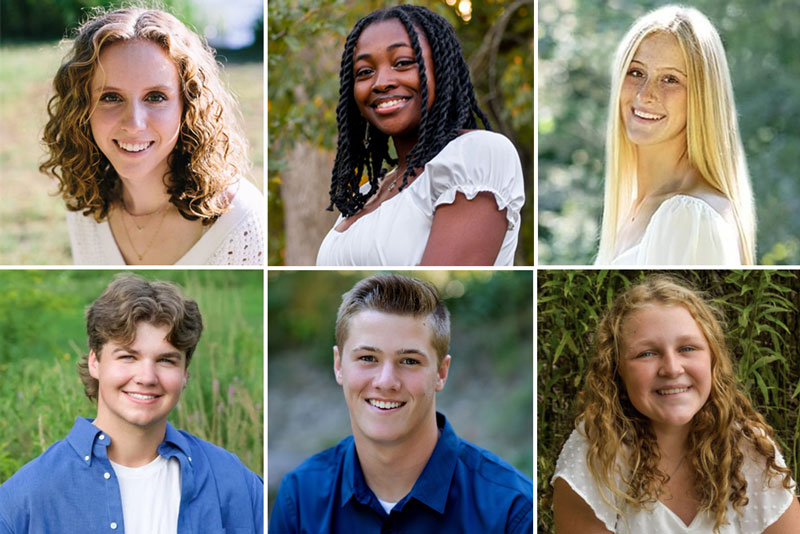 Chelmsford High School Announces March 2023 Students of the Month
in News
CHELMSFORD, MA (Mar. 29, 2023) – Six seniors were recently honored as Chelmsford High School named its Lions Pride/Rotary Student of the Month recipients for the month of March, announced CHS Principal Stephen Murray.
Seniors Charlotte Kennedy and Ashleigh Sorbet were named from Emerson House while Amelia Kelley and Cole Pelkey were honored from Hawthorne House, and Ryan Clark and Elizabeth Onyearbor from Whittier House.
Sponsored by the Chelmsford Rotary Club for more than 30 years, the Student of the Month program recognizes outstanding students from each of CHS's three academic houses – Emerson House, Hawthorne House, and Whittier House – for their achievements in and out of the classroom.
Charlotte Kennedy
A member of three national honor societies – the National Honor Society, World Languages Honor Society and the Speech and Debate National Honor Society – Ms. Kennedy's presence at CHS is felt in many areas as a three-sport athlete and through her volunteerism.
A member of the swimming and diving, basketball and spring track and field teams, Ms. Kennedy helped the latter to a 15-6 record, the No. 13 spot in the Massachusetts Interscholastic Athletic Association (MIAA) Power Rankings and a bid to the MIAA Division 1 Tournament. Outside of the gym and the pool, she is the president and founder of the Round Table Club and board member of the Freshman Mentors program, assisting freshmen students with their adjustment to high school.
Additionally, Ms. Kennedy has been a four-year member of the Get Involved Volunteer Everywhere (GIVE) Club and a Class Representative. She also finds time to compete with the Speech and Debate team and work with the Physics and Engineering Club.
Ms. Kennedy is enrolled in challenging coursework such as Honor International Relations, Honors Principles of Engineering, Architecture, and Physics. Though she has yet to choose a college, she plans to study civil engineering.
She is the daughter of George and Jean Kennedy.
Ashleigh Sorbet
A member of the NHS, National English Honor Society and National Science Honor Society, Ms. Sorbet is an active volunteer with all three as well as a three-sport athlete. She is currently enrolled in AP Government and Politics, AP Literature and Composition, Techniques and Principles of Athletic Training, and Mock Trial, among others.
Ms. Sorbet competes year-round as a member of the cross country and indoor and spring track and field teams. When not competing, she is an active member of the Mock Trial Team, preparing for her career in law.
Ms. Sorbet plans to attend Auburn University to study international relations, then attend law school. She is the daughter of Jonathan and Alison Sorbet.
Amelia Kelley
A NHS inductee and honor student, Ms. Kelley is the consummate student-athlete and representative as a decorated three-sport athlete and member of CHS's spirit group, The Tundra. She is currently enrolled in courses such as Honors International Relations, Honors Anatomy and Physiology, Calculus, and TV and Broadcasting among others.
A Merrimack Valley Conference all-star in cross country, indoor track and lacrosse, Ms. Kelley was named the team's most valuable runner of the 2022 cross country season and has served as captain on all three teams. She has helped the lacrosse team to consecutive MIAA Division 1 Tournament appearances, including the North Region title and semifinal appearance in 2021.
Along with working on NHS service projects, she is active in The Tundra, rallying student-athletes in other sports. Off campus, she volunteers at local track and field meets and youth lacrosse camps and clinics.
Ms. Kelley will attend Iona College in the fall where she will join the Gaels' women's lacrosse team and major in entrepreneurship. She is the daughter of Andrew and Dawn Kelley.
Cole Pelkey
An Honor Roll student throughout his CHS tenure, Mr. Pelkey is a three-sport athlete and an exemplary campus and community leader. He is currently enrolled in diverse, rigorous coursework including Honors International Relations, Physics, Quantitative Reasoning, American History Through Film, and Woodworking among others.
Mr. Pelkey was recently named the Merrimack Valley Conference/Dual County League (MVC/DCL) Hockey Player of the Year and an all-star by The Sun, having led CHS to an 11-7-3 record and a bid to the MIAA Division 1 Tournament. Also a member of the golf team, he was named to the MVC Second Team and the recipient of the team's most improved player award.
A member of the Freshman Mentor program and The Tundra, Mr. Pelkey is also active off campus, volunteering with Chelmsford Youth Hockey, Chelmsford Youth Baseball and the Department of Children and Families.
Though still undecided on a college, Mr. Pelkey plans to study business and later pursue commercial real estate. He is the son of Jay and Deborah Pelkey.
Ryan Clark
A member of both the NHS and National Spanish Honor Society, Mr. Clark is currently studying Quantitative Reasoning, Calculus, Holocaust and Genocide Studies, Principles in Athletic Training, in addition to other courses.
A two-sport athlete in football and baseball, Mr. Clark was named the team's defensive most valuable player and a MVC Second Team standout in helping lead the Lions to an 8-3 record and the MIAA Division 2 Quarterfinal round. He joined Mr. Pelkey in leading the baseball team to a 15-7 clip last spring and an appearance in the MIAA Division 1 Round of 16.
In August of 2021 (along with February Student of the Month Bella Mirasolo), Mr. Clark raised $1,850 and filled seven shopping carts with non-perishable food items for the Table of Plenty food pantry within an 11-day period. He has also volunteered for Toys for Tots and the Chelmsford Pop Warner and is a member of the Freshmen Mentor program.
Mr. Clark will attend Western New England University in the fall where he will study biomedical engineering and play football. He is the son of Tim and Heather Clark.
Elizabeth (Lilly) Onyeabor
A student who is omnipresent among the clubs and causes at CHS, Ms. Onyeabor is currently enrolled in Senior Odyssey, Pre-Calculus, Honors American Sign Language 2, and Digital Music, among other classes.
As a junior, Ms. Onyeabor was a driving force in bringing the Black Student Union to fruition at CHS, a club in which she remains an active member. She is also a member of the ASL Club and the Freshman Mentor program and Cheer. Off campus, she volunteers with her church and enjoys translating her favorite music and television shows into sign language.
In her spare time, she is also a talented singer and enjoys drawing and crocheting.
Yet, to declare a college, Ms. Onyeabor intends to study ASL and to work as an interpreter. She is the daughter of Obiukwu and Nwanne Onyeabor.
About Chelmsford Public Schools
The Chelmsford Public School District provides all students with multiple pathways to optimize their own potential for academic excellence, leadership, and social and emotional wellness. The mission of the Chelmsford Public Schools is to educate, engage, prepare, and empower well-rounded and knowledgeable learners to PERSEVERE through challenges, demonstrate RESPECT and INTEGRITY in their words and actions, are DEDICATED to their community, and display EMPATHY as global citizens while discovering and pursuing their full potential. This PRIDE-driven culture enables all members of the school community to support the growth and development of students. For more information, please visit www.chelmsfordschools.org.