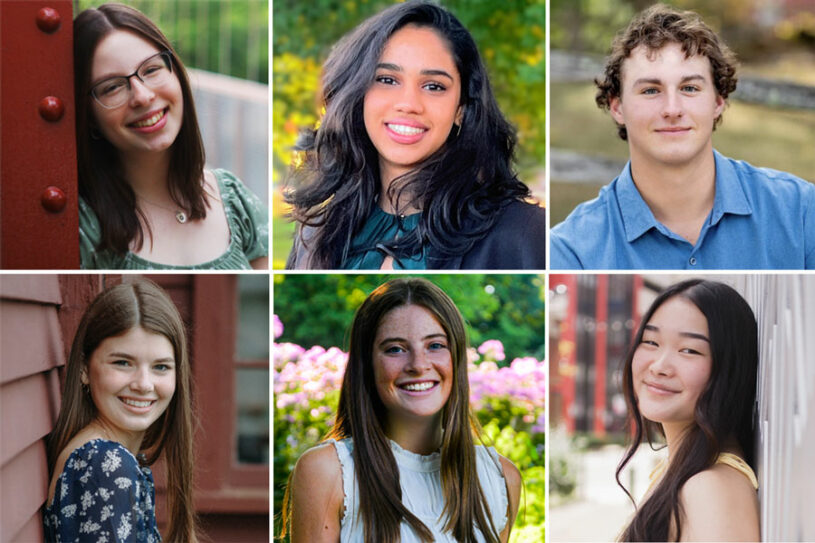 Chelmsford High School Announces May 2023 Students of the Month
in News
CHELMSFORD, MA (May 16, 2023) – Six seniors were recently honored as Chelmsford High School named its Lions Pride/Rotary Student of the Month recipients for the month of May, announced CHS Principal Stephen Murray.
Seniors Emily Hilton and Hope Zhao were named from Emerson House while Molly Fox and Manasa Praveen were honored from Hawthorne House, and Braydon Gray and Laura Solomon from Whittier House.
Sponsored by the Chelmsford Rotary Club for more than 30 years, the Student of the Month program recognizes outstanding students from each of CHS's three academic houses – Emerson House, Hawthorne House, and Whittier House – for their achievements in and out of the classroom.
Emily Hilton
A National Honor Society Inductee, Ms. Hilton is omnipresent throughout the campus and community service circles as well as academics and athletics at CHS. She is currently enrolled in courses such as AP Environmental Science, Organic Chemistry, Biotechnology, MoneySmart and Introduction to Statistics, among others.
A three-sport athlete competing year-round (cross country, indoor/spring track and field), Ms. Hilton is also a member of the Freshman Mentor Program, where she helped lead freshmen and sophomores through the challenges of high school. Additionally, she is captain of the CHS Color Guard, serving as a choreographer and leader to younger members.
Off campus, Ms. Hilton is a regular volunteer for her church and plans to study Christian ministries at Gordon College in the fall while continuing her cross country/track and field career.
Ms. Hilton is the daughter of Kyle and Heather Hilton.
Hope Zhao
A member of the NHS, National English Honor Society and Spanish National Honor Society, Ms. Zhao is the embodiment of involvement at CHS. She is currently enrolled in four AP courses including Environmental Science, Calculus, Psychology and Research, along with several other challenging classes.
Ms. Zhao holds officer roles with the NHS, serving as secretary; and the Student Council, in which she is a class representative. She is also active with the Freshmen Mentor Program and the Get Involved Volunteer Everywhere (GIVE) Club and finds time to work with Theatre Guild, Yearbook Staff, CHS Band and the Dance Team.
This fall, Ms. Zhao will attend Boston University where she will study education and human development with a concentration in child and adolescent mental health. She plans to become a mental health counselor.
Ms. Zhao is the daughter of Yajwu and Xinyu Zhao.
Molly Fox
A member of the NHS and French National Honor Society, Ms. Fox carries a rigorous academic courseload that includes five AP courses: Computer Science, Calculus, Government and Politics, Literature and Composition, and Psychology. In addition to induction into two national honor societies, she was also presented the AP Scholar award for high marks on AP exams.
Ms. Fox is omnipresent among CHS's activities and causes. In addition to serving as president of the GIVE Club, vice president of Chelmsford's NHS, and an executive board member of the Freshman Mentor Program, she also gives her time to Leaders in Motion Everywhere (LIME), The Voice (CHS's student newspaper), Class Representatives, as well as the Speech and Debate and Mock Trial teams.
A three-sport athlete, Ms. Fox served as captain of the girls' soccer team and was a member of the indoor track and field team over the winter. Currently, she has helped lead the girls' lacrosse team to an 11-3 record and the No. 4 spot in the latest Massachusetts Interscholastic Athletic Association (MIAA) Division 1 Poll.
Outside of CHS, Ms. Fox has volunteered her time campaigning for State Representative Simon Cataldo and as a youth representative for Ranked Choice Voting. She also volunteers for the TOPS Soccer program, providing coaching and mentorship to players with disabilities.
Last week, Ms. Fox was named the Massachusetts School Administrators Association NHS Student of the Year for her volunteerism, leadership, and accomplishments.
Ms. Fox will attend the University of Vermont this fall where she plans to dual major in computer science and political science, and possibly pursue a law degree thereafter. She is the daughter of Matthew and Kathleen Fox.
Manasa Praveen
A fixture on the CHS High Honor Roll, Ms. Praveen is a member of three national honor societies (NHS, English and World Language). She is currently enrolled in four AP Courses – Calculus, Physics, Literature and Composition, and Psychology – as well as MoneySmart and Reality Check.
Ms. Praveen has been very active in the CHS community, particularly with the Student Council for which she has held the offices of treasurer and fundraising manager. Additionally, she founded the CareCardz Club – which makes and sends cards to spread joy to area folks in need – and currently serves as its president.
Ms. Praveen is also a member of CHS's Distributive Education Clubs of America (DECA) chapter, Freshmen Mentor Program and Class Representatives.
Off campus, she volunteers with the Chelmsford Public Library and the Town of Chelmsford, Rise Against Hunger, the New England Shirdi Sai Temple, Grow-a-Row and the Town's Diversity Committee. She has also volunteered with the Chelmsford chapter of Girls Who Code and the Foundation for Teaching Economics.
Ms. Praveen will attend UMass Lowell in the fall to major in computer science and plans to pursue her master's degree in the same field with a concentration on artificial intelligence. She is the daughter of Praveen Rajendron and Rabeena Raveendranath.
Braydon Gray
A NHS inductee and high honor roll student, Mr. Gray is currently enrolled in AP Research, AP Psychology, Statistics, American History Through Film, and Exploring Popular Music, among other courses.
An accomplished student-athlete, Mr. Gray has also given plenty back to CHS and the Chelmsford community through working with the Freshmen Mentors Program, volunteering with Living Waters Center of Hope shelter and kitchen in Lowell, and with the Nor'Easters Baseball Club instructing younger players.
A two-sport athlete, Mr. Gray is a captain and pitcher on the CHS baseball team (12-4, 10-3 in the Merrimack Valley Conference) which is currently No. 15 in the latest MIAA Division 1 poll. He was a First Team All-MVC selection as a sophomore and was named the MVC Player of the Year as a junior.
A two-year swimmer, he is the MVC champion in both the 100-meter butterfly and backstroke, while earning All-MVC First Team status.
Mr. Gray will attend Stonehill College in the fall where he will major in sport management and continue his baseball career. He is the son of Rich and Patty Gray.
Laura Solomon
A High Honor roll student throughout high school, Ms. Solomon is a member of three national honor societies: the NHS, English and World Language. She is currently studying AP Literature and Composition, AP Psychology, Early Childhood 3, Calculus, and Honors International Relations among other courses.
Ms. Solomon's involvement covers a myriad of clubs and causes, which includes serving as the Head of Costumes on the Costume Team, four years in the GIVE Club, Best Buddies, and Women in STEM. She is also active in the Chelmsford community, working with the Lowell Humane Society, Kumon Math and Reading as a tutor, and several community efforts with the GIVE Club.
Ms. Solomon will attend the University of Connecticut this fall where she will study elementary education and later pursue teaching.
She is the daughter of Jeffrey and Deborah Solomon.
About Chelmsford Public Schools
The Chelmsford Public School District provides all students with multiple pathways to optimize their own potential for academic excellence, leadership, and social and emotional wellness. The mission of the Chelmsford Public Schools is to educate, engage, prepare, and empower well-rounded and knowledgeable learners to PERSEVERE through challenges, demonstrate RESPECT and INTEGRITY in their words and actions, are DEDICATED to their community, and display EMPATHY as global citizens while discovering and pursuing their full potential. This PRIDE-driven culture enables all members of the school community to support the growth and development of students. For more information, please visit www.chelmsfordschools.org.