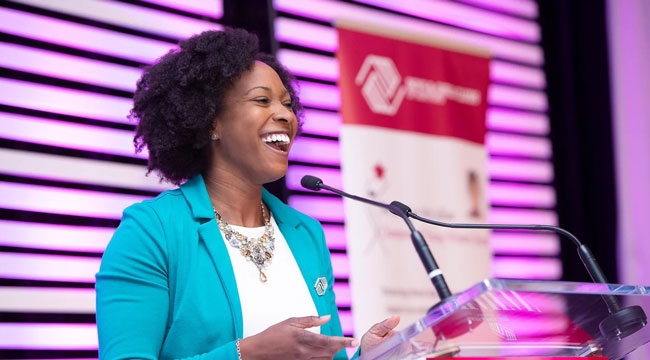 Chelmsford High School Welcomes Ivy Watts, Mental Health Empowerment Speaker, Thursday
in News
Former All-American sprinter now renowned mental health advocate/speaker
CHELMSFORD, MA (Apr. 25, 2022) – Ivy Watts, a former All-American student-athlete turned mental health advocate, will speak to Chelmsford High School students in two waves Thursday, Apr. 28 from 9-10 a.m. and again from 10:10-11:10 a.m. at the Carl J. Rondina Performing Arts Center.
Ms. Watts will speak to freshmen and sophomores from 9-10 a.m. and the junior and senior classes from 10:10-11:10 a.m.
A 2015 graduate of the University of New Haven, Ms. Watts was an All-American Track and Field standout and a top 30 finalist for NCAA Woman of the Year, yet kept her struggles with anxiety, depression and self-worth hidden. After seeking help, she has become one of the most sough-after mental health empowerment speakers in the country.
Ms. Watts went on to receive her master's degree in public health from Boston University and is mental health first aid certified. She has spoken to more than 10,000 students and 5,000 coaches and administrators.
To find out more about Ms. Watts, visit ivywattsspeaks.com and her blog beautifullysimplyyou.com.
About Chelmsford Public Schools
The Chelmsford Public School District provides all students with multiple pathways to optimize their own potential for academic excellence, leadership, and social and emotional wellness. The mission of the Chelmsford Public Schools is to educate, engage, prepare, and empower well-rounded and knowledgeable learners to PERSEVERE through challenges, demonstrate RESPECT and INTEGRITY in their words and actions, are DEDICATED to their community, and display EMPATHY as global citizens while discovering and pursuing their full potential.  This PRIDE-driven culture enables all members of the school community to support the growth and development of students.  For more information, please visit www.chelmsfordschools.org.