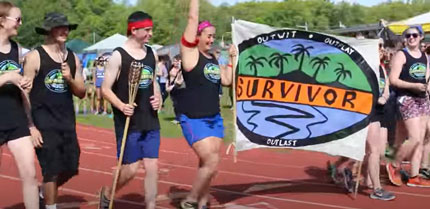 CHS 24-Hour Relay Set for May 21-22
in News
CHELMSFORD, MA (May 3, 2022) – The 24-Hour Relay returns to Chelmsford High School Saturday, May 21 to Sunday, May 22 at The Plateau following a two-year absence due to the Covid-19 outbreak.
The 24-Hour Relay, organized by the student-run Leaders In Motion Everywhere (LIME), consists of teams of 8-12 members who walk around The Plateau field for 24 consecutive hours. Throughout the day students will engage in theme laps, view movies, water gun fights, contests with prizes, midnight ice cream and food trucks.
HOW TO PARTICIPATE
Form a team of 8-12 members with 1 adult coach
Join as an individual to be placed on a team or to volunteer with LIME to help run the event
Help sponsor teams and/or donate to help friends participate and give to local charities
COST TO PARTICIPATE
Each member of a team is required to make a $40 donation, but participants can raise funds however they see fit. All of the money will benefit local charities:
Chelmsford Food Pantry
Chelmsford Senior Center
Chelmsford Alumni Association
Chelmsford Police Crime Prevention Activities
Chelmsford SAFE Program
Chelmsford High School Principal's Fund
REGISTRATION
Registration, fees and all materials are due Friday, May 6 to Ms. Tammy Leary in Hawthorne House.
Checks can be made out to Chelmsford 24 Hour Relay
This year's Relay will benefit local charities.For more information, contact:
About Chelmsford Public Schools
The Chelmsford Public School District provides all students with multiple pathways to optimize their own potential for academic excellence, leadership, and social and emotional wellness. The mission of the Chelmsford Public Schools is to educate, engage, prepare, and empower well-rounded and knowledgeable learners to PERSEVERE through challenges, demonstrate RESPECT and INTEGRITY in their words and actions, are DEDICATED to their community, and display EMPATHY as global citizens while discovering and pursuing their full potential.  This PRIDE-driven culture enables all members of the school community to support the growth and development of students.  For more information, please visit www.chelmsfordschools.org.