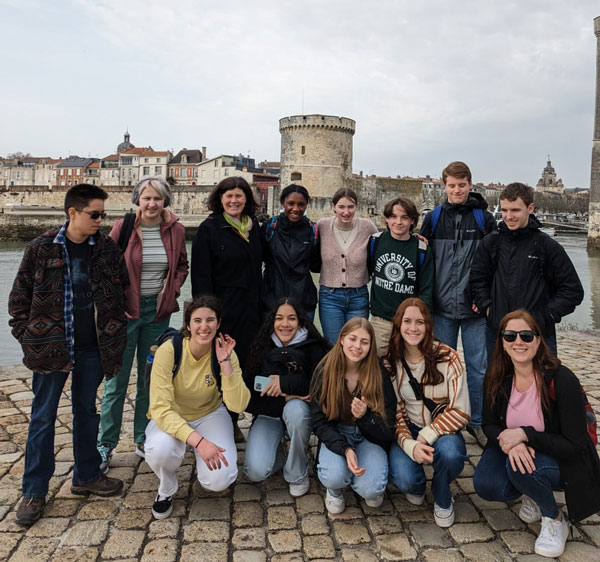 Cultural Exchange Trip to France 'Éducative' in Every Sense for CHS French Students
in News
CHS students spent Feb. 18-27 in La Rochelle, France
CHELMSFORD, MA (May 17, 2023) – For any Chelmsford High School student thinking of taking advantage of the cultural exchange trip to La Rochelle, France in February 2024, any of the students who went in 2023 could give an accurate preview. And it's all positive:
Your French will improve remarkably.
You will become attached to your host family.
You will fall in love with La Rochelle.
You and your French counterparts aren't all that different.
All four points were a significant part of the discussion on Thursday, Mar. 9 when 11 CHS students met in a World Languages classroom to discuss the experiences of their February cultural exchange trip to La Rochelle, France. Joining them was French educator Mairin Chagnon and World Languages coordinator Jessica Nollet.
Other than a one-day excursion to Paris to visit The Louvre, Champs Elysée, and the Arc de Triomphe, CHS students spent their time in the east coast city of La Rochelle.
"I loved seeing everyone speaking French and putting forth their best effort," said Ms. Chagnon, who chaperoned the trip as did CHS French educator Veronica Gadbois. "It was heartwarming to see the bonds they were able to create in such a short time."
Students from Fénelon Notre Dame (high school) visited Chelmsford from Oct. 13-21. CHS Students who hosted their French counterparts noted how helpful it was in their February visit.
Still, entering a host family's home for the first time, said one student, was a little intimidating, but any discomfort disappeared quickly. "My host family took me biking on the beach, which was a nice way to get to know them," said senior Narissa AlDayaa.
"The host families were all very friendly," said Brian Weller-Fahy, a junior. "Everyone was very welcoming."
Like many New England towns and cities, La Rochelle has gorgeous views, quaint shops, galleries, restaurants and cafes – an ideal destination for an exchange trip. "Very walkable," said junior Taisiya Petrova. "I loved how you could walk around the city.
Perhaps predictably, the food was different. La Rochelle is located on the Bay of Biscay, thus seafood is popular. "A lot of foods I had before, but it was so much better," noted Sophie Lamar, a sophomore.
Ms. AlDayaa experimented with several new foods including oysters and escargot – snails served in their shells. "They tasted like mushrooms with garlic," she said. "It was actually pretty good."
CHS students spent several days at Fenelon Notre Dame which, they agreed, was far different from CHS:
School days ran from 8 a.m.-5:45 p.m.
Classes, some as long as two hours, were longer and staggered, often with as long as an hour between classes.
Students are allowed to leave and return between classes.
Perhaps most important, when asked if they were better speakers and students of the language, the consensus was a resounding yes.
"By the end of the week, I could answer a question without thinking about it first," said senior Katherine Sanroma, who noted she played 'Pictionary' in French with her host family. "My hosts parents told me how much I improved my French. They told me in English how much they were going to miss me."
The Chelmsford students noted their French hosts were patient and helpful with the language. "It was the best feeling to be able to speak to someone in French," said Ms. AlDayaa. "And they didn't speak back to me in English."
The exchange to La Rochelle was one of two cultural trips over February vacation, the other in Malaga, Spain.
About Chelmsford Public Schools
The Chelmsford Public School District provides all students with multiple pathways to optimize their own potential for academic excellence, leadership, and social and emotional wellness. The mission of the Chelmsford Public Schools is to educate, engage, prepare, and empower well-rounded and knowledgeable learners to PERSEVERE through challenges, demonstrate RESPECT and INTEGRITY in their words and actions, are DEDICATED to their community, and display EMPATHY as global citizens while discovering and pursuing their full potential.  This PRIDE-driven culture enables all members of the school community to support the growth and development of students.  For more information, please visit www.chelmsfordschools.org.