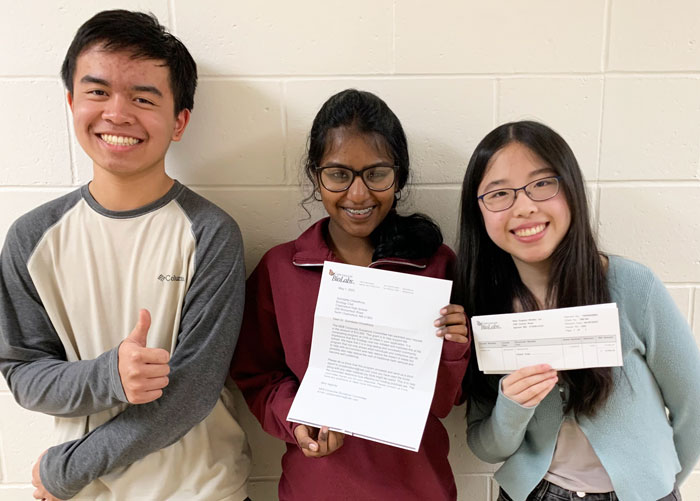 CHS Ecology Club Receives $10,000 Grant from New England BioLabs
in News
Grant will sustain CHS composting program, trigger pilot programs at middle schools
CHELMSFORD, MA (June 28, 2023) – The Chelmsford High School Ecology Club, which will begin only its second full year with the 2023-24 academic year, received a $10,000 grant from New England BioLabs, the club's advisor, chemistry educator Dr. Somdatta Chowdhury, announced recently.
The NEB Corporate Donations Committee awards grants to non-profits, grassroots organizations, and public schools anywhere between $500-$10,000.
"We are so fortunate," said Dr. Chowdhury. "We are pleasantly surprised to get the entire funding. (New England BioLabs) know it's a program that will be continuing year after year. They know the fund is going to go a long way and make a difference doing sustainable work."
The grant, said Dr. Chowdhury, will greatly aid the initiatives of the CHS composting program as well as jumpstarting similar programs at both the Parker and McCarthy middle schools. She is also hopeful of creating more visible signage in the CHS cafeteria alerting students how to compost properly.
"The Club will be using every penny to not only continue composting at Chelmsford High School, but also to increase awareness as well as encourage the two middle schools in the town to start their own pilot composting programs," she said.
The CHS Ecology Club was established in the fall of 2021 and conducted a one-day audit of waste from cafeteria lunches on Mar. 24, 2022, which resulted in a successful compositing program for the 2022-23 school year.
The Club has already made in-roads at the middle school level. Last spring, members of the Club visited both Parker and McCarthy middle schools to discuss the benefits of composting. "We would absolutely like to extend the program (to the middle schools)," Dr. Chowdhury said.
The Club has grown to 13 members – a trend which Dr. Chowdhury expects to continue in 2023-24 with a new, informed freshmen class entering high school. "I won't be surprised if we draw more members this year," she noted. "Even in the last two months of the school year we had students join us."
In its award letter, the New England BioLabs Corporate Donations Committee wrote, "It is impressive that the Ecology Club has initiated and instituted this at the school. We hope that it is a long lasting and successful community program that not only shows what individuals and institutions can do to help with environment and help reduce the impact of waste but possibly also help reduce the cost of traditional trash removal and become self-sustaining."
Freshmen students return to CHS on Monday, Aug. 28 while sophomores, juniors and seniors return Tuesday, Aug. 30.
About Chelmsford Public Schools
The Chelmsford Public School District provides all students with multiple pathways to optimize their own potential for academic excellence, leadership, and social and emotional wellness. The mission of the Chelmsford Public Schools is to educate, engage, prepare, and empower well-rounded and knowledgeable learners to PERSEVERE through challenges, demonstrate RESPECT and INTEGRITY in their words and actions, are DEDICATED to their community, and display EMPATHY as global citizens while discovering and pursuing their full potential.  This PRIDE-driven culture enables all members of the school community to support the growth and development of students.  For more information, please visit www.chelmsfordschools.org.