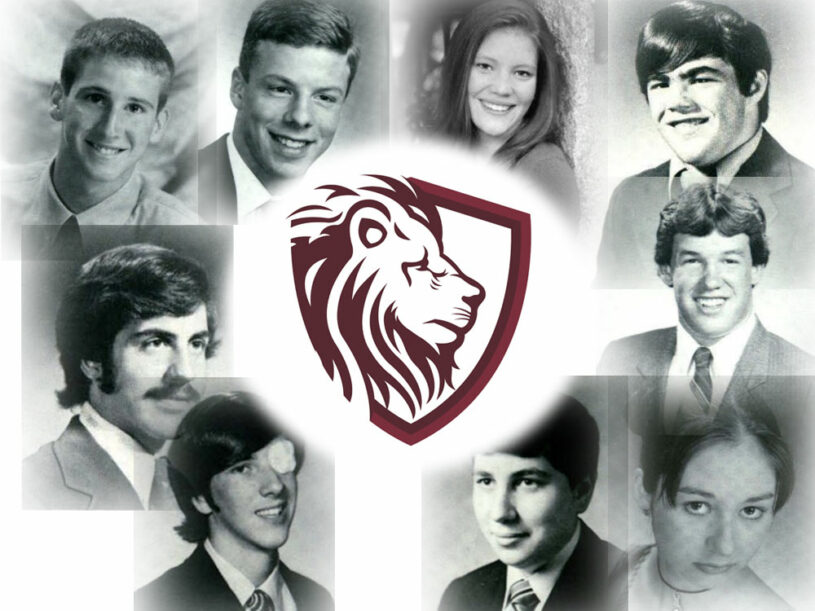 Chelmsford High School Hall of Fame to Induct Nine Outstanding Alumni
in News
Class of 2022 to be inducted Saturday, Oct. 15 at the UML Inn & Conference Center
CHELMSFORD, MA (Oct. 12, 2022) – The Chelmsford High School Hall of Fame will induct nine alumni on Saturday, Oct. 15 in a ceremony held at the UMass Lowell Inn and Conference Center.
Tickets to attend the Hall of Fame cost $60 and can be purchased by contacting George Simonian at 978-256-3100 or Terry McSheehy '64 at 978-251-3788. A social hour will be held at 5:45 p.m., followed by dinner at 6:30 p.m. and the ceremony.
The CHS Hall of Fame Class of 2022 inductees includes:
Rachel (Fairbanks) Adaran (2010), actor/clothing entrepreneur
Kenneth Chutchian (1975), journalist/author/educator
Mark Dearborn (1986, posthumously), athlete/philanthropist
Thomas Gill (1971), artist/philanthropist
Daniel Hart (1999), athlete/youth sports advocate and volunteer
Michael McLarney (1973), three-sport athlete/New England champion wrestler
Timothy McMaster (1994), athlete/broadcaster
Deena (Patsourakos) Ronayne (2001), actor/producer/entrepreneur
John Sousa (1984), contributions/service
Rachel (Fairbanks) Adaran
A member of the CHS Theatre Guild in her days at CHS, Ms. Adaran acted in many productions and with varoius theater companies with titles such as "Cinderella," "First Wives Club" and "Stardust Road" to her credit. She earned her undergraduate degree in musical theater at Penn State and launched a clothing line titled Spark & Edge in 2021.
Kenneth Chutchian
The editor of the CHS newspaper, The Paper Lion, Mr. Chutchian moved on to enjoy an award-winning career as a journalist over 20 years covering state and local politics, crime and human interest stories. He later became an educator at Poland (Maine) High School, teaching history, government and economics. In 2019, he published "John Reed: Radical Journalist 1887-1920." He received his undergraduate degree in journalism from Syracuse University and a master's degree in teaching from the University of Southern Maine.
Mark Dearborn
A hockey standout at CHS, Mr. Dearborn established the Arpin Charitable Fund, established in 2013 to provide financial assistance to victims of natural disasters and tragedies. Mr. Dearborn was also very active with the annual Run to Home Base, a Boston Red Sox-based fundraiser for the clinical care of veterans and their families, for which he was named a top five fundraiser.
Mr. Dearborn passed away in 2019.
Thomas Gill
A musician and artist in his CHS years, Mr. Gill's artwork can be seen in venues such as Enterprise Bank, Saint Elizabeth Hospital, Holy Family Hospital and Lowell Community Health Center. He is a member of four Art Associations including the North Shore Arts Association in Gloucester, the Rockport Art Association and Museum, the Lowell Art Association, and the Chelmsford Art Society.
Mr. Gill has displayed his work at the Whistler House Museum of Art, the Brush Gallery and Western Avenue Studios in Lowell; the Rockport Art Association, and the North Shore Arts Association.
Daniel Hart
In his sixth year as the Director of Athletics at CHS, Mr. Hart was a two-time Merrimack Valley Conference all-star basketball player and led the Lions to MVC titles in 1998 and 1999. During that time, he received the New England Technology Award while serving as an anchor for CHS News Zone.
Since, Mr. Hart bas been a volunteer coach, board member and league director emeritus with Chelmsford Youth Basketball Association as well as a coach and official with the Special Olympics.
A 2003 graduate of UMass Dartmouth, Mr. Hart has served as Supervisor of Students at both CHS and the McCarthy Middle School prior to becoming athletic director. He was also as an assistant boys' basketball coach from 2004-10 as well as the head coach at Lowell Catholic H.S. from 2011-15.
Mr. Hart founded the instructional Lion League Basketball in 2006, which he owned and operated until 2017.
Michael McLarney
A U.S. Navy officer and Merchant Marine engineer, Mr. McLarney was a three-sport athlete at CHS and continued his stellar wrestling career at the Massachusetts Maritime Academy, where he compiled a four-year record of 95-40, earned a New England Championship and two NCAA Tournament bids.
Mr. McLarney was the recipient of the Hopkins Award, presented to the team's Outstanding Wrestler, and went on to become an NCAA certified wrestling official, head coach at Bridgewater State University, and an assistant at Worcester Polytechnic Institute and UMass Lowell.
Timothy McMaster
Also a basketball standout and National Honor Society inductee at CHS, Mr. McMaster has enjoyed a career as a sports broadcaster and simultaneously works for Fox News Headlines as a writer/producer/anchor; as well as ESPN calling college baseball, basketball and softball telecasts. He is also a founding member of The Athletic, for which he hosts and oversees various podcasts.
Mr. McMaster graduated from Syracuse University's S.I. Newhouse School of Journalism.
Read biography | timmcmaster.us
Deena (Patsourakos) Ronayne
Among the most active students in CHS Theatre Guild, Ms. Ronayne has combined her love of the theater arts and entrepreneurship with her company, Hardly Working Promotions, which specializes in public relations and marketing for theatrical productions.
Ms. Ronayne earned her undergraduate degree in sociology (with a minor in dance) from Rollins College and went on to earn her master's degree in criminal justice from the University of Central Florida. She is also studying Performing Art Industry Essentials at the Tisch School for the Arts at NYU.
She continues to produce theater productions and remains an avid dancer, specializing in swing and ballroom.
John Sousa
The Town of Chelmsford Finance Director and Treasurer, Mr. Sousa served as a volunteer student assistant in the CHS Library where he organized research material. He moved on to receive his undergraduate degree from UMass Lowell, then his MBA from Suffolk University in 2006 where he was a member of the Business Honor Society.
A certified finance director, Mr. Sousa has helped the Town maintain its sterling AA+ bond rating.
About Chelmsford Public Schools
The Chelmsford Public School District provides all students with multiple pathways to optimize their own potential for academic excellence, leadership, and social and emotional wellness. The mission of the Chelmsford Public Schools is to educate, engage, prepare, and empower well-rounded and knowledgeable learners to PERSEVERE through challenges, demonstrate RESPECT and INTEGRITY in their words and actions, are DEDICATED to their community, and display EMPATHY as global citizens while discovering and pursuing their full potential. This PRIDE-driven culture enables all members of the school community to support the growth and development of students. For more information, please visit www.chelmsfordschools.org.