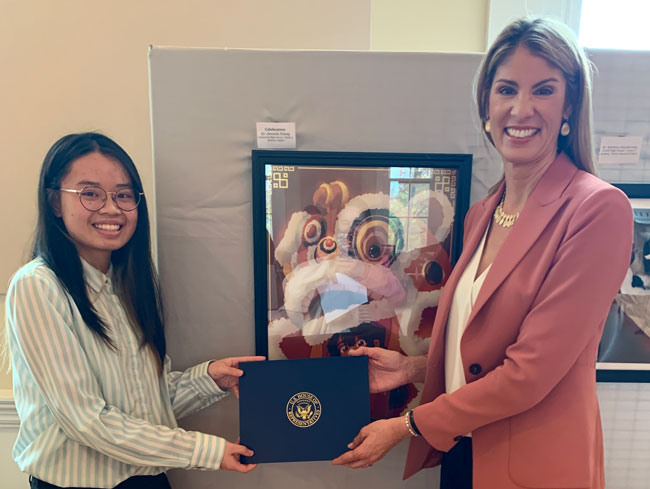 Artwork of CHS Juniors Amanda Hoang, Cynthia Lu Honored by Congresswoman Lori Trahan
in News
Ms. Hoang, Ms. Lu among digital artists in nationwide 2023 Congressional Art Competition
CHELMSFORD, MA (May 11, 2023) – Chelmsford High School juniors Amanda Hoang and Cynthia Lu were among more than 28 regional submissions of artwork in the 2023 Congressional Art Competition, which were on display at a reception at the Chelmsford Center for the Arts on Tuesday, May 2.
The Congressional Art Competition is a nationwide visual art contest which selects submissions from each U.S. congressional district, the winners from which are honored on the district and national levels. The winning artwork is displayed in the U.S. Capitol for one year.
Ms. Hoang and Ms. Lu were honored at the Chelmsford Center for the Arts in the presence of Congresswoman Lori Trahan of the Third Congressional District of Massachusetts (Essex, Middlesex and Worcester counties) and members of her staff.
Elliott Paulek, a senior at Lawrence Academy, was judged the winner of the Third Congressional District.
"Amanda and Cynthia are both fabulous in anything digital," said Madalena Alves, who teaches Animation I, Graphic Design I, and Introduction to Digital Photography I and II, as well as several other fine arts courses at CHS. "They're both wonderfully focused with high standards for themselves and their art. They also have the love of creating."
Ms. Hoang submitted a piece of digital artwork titled 'Celebration,' depicting a young woman proudly peeking from underneath a traditional Vietnamese lion, reflective of Ms. Hoang's pride in her heritage.
"I didn't feel any emotional connection to any of the topics I had thought of, so I opted to draw a representation of my culture," Ms. Hoang explained. "The subject I ultimately decided on was a traditional Vietnamese lion costume because not only does it represent my culture, but I've always loved the design and chaotic nature associated with the lion ever since I was young.
"I remember other kids were often scared of it because of its intimidating design," Ms. Hoang added, noting the contrast between the fierce lion and soft smile of the young woman. "I also have never tackled a subject so detailed and thought it would be a nice challenge."
Ms. Hoang is a student of Mrs. Alves' Animation course and completed Introduction to Digital Photography last year. She is interested in pursuing animation or game design in college.
Ms. Lu, a student in Mrs. Alves' Graphic Design course, submitted her digital artwork titled 'Cleanse,' which curiously depicts a faceless woman nearly submerged in water, pouring water out of a bottle in front of her face. The striking colors of the water and cloud-covered sun complement one another nicely.
The image's message, she said, is twofold: excessive focus on one area can result in drowning oneself, and how working towards a goal can create opportunities. Ironically, 'Cleanse' came from Ms. Lu's dissatisfaction with her art.
"I spend a lot of my free time drawing, but it takes me a lot of time and effort to just draw one piece of art and I've often wondered if I should be spending so much time drawing when I don't even show anyone my art," Ms. Lu explained. "When I first heard of the competition, I tried to convince myself to not enter it. But I couldn't erase the urge to participate in the competition and decided to draw something inspired by my feelings.
"I went completely out of my comfort zone with this piece, hoping that I would be able to improve my artistic abilities by drawing things that I normally avoid drawing, such as water, dresses, and realistic people," she added.
Ms. Lu also recently submitted another piece of digital artwork to a local business which is sponsoring a competition for students to concept its business card design.
"They both have such a unique style that is evident in their brush strokes and craftsmanship," said Mrs. Alves. "They're already thinking about next year's contest. I've been lucky to have them."
Ms. Hoang is the daughter of Lanh Ho and Hien Hoang.
Ms. Lu is the daughter of Zhimin Lu.
About Chelmsford Public Schools
The Chelmsford Public School District provides all students with multiple pathways to optimize their own potential for academic excellence, leadership, and social and emotional wellness. The mission of the Chelmsford Public Schools is to educate, engage, prepare, and empower well-rounded and knowledgeable learners to PERSEVERE through challenges, demonstrate RESPECT and INTEGRITY in their words and actions, are DEDICATED to their community, and display EMPATHY as global citizens while discovering and pursuing their full potential. This PRIDE-driven culture enables all members of the school community to support the growth and development of students. For more information, please visit www.chelmsfordschools.org.