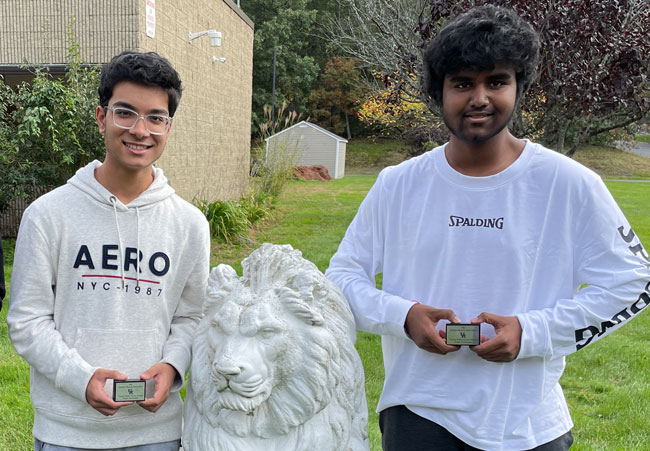 CHS Speech and Debate Team Places Best-Ever Third at MSDL State Finals
in News
Top five finish sees CHS Speech and Debate team receive Sweepstakes Award
CHELMSFORD, MA (Mar. 31, 2023) – Seniors Arjun Lingala and Prateek Motagi advanced to the semifinal and led the Chelmsford High School Speech and Debate Team to a third-place showing at the Massachusetts Speech and Debate League (MSDL) state final Mar. 24-25 at Acton-Boxborough H.S.
The stellar finish marked the first time CHS received a Sweepstakes Award, presented to the top five schools. Seventeen CHS students participated in the MSDL state final, signifying CHS's largest contingent ever.
Mr. Lingala and Mr. Motagi competed in the Public Forum Varsity division, for which the topic was 'Resolved: The Republic of India Should Sign the Artemis Accords.' Mr. Lingala and Mr. Motagi argued affirmatively.
Mr. Lingala and Mr. Motagi won five of their first six rounds entering the octo-final, where it defeated Keshav Warrier and William Wu of Acton-Boxborough. Along the way, Mr. Lingala and Mr. Motagi defeated teams from Manchester-Essex, Newton South, and Acton-Boxborough, before falling to Aria Shi/Rebecca Teng from Lincoln-Sudbury.
The team of freshmen Karen Khela and Akshat Pandey, which also argued affirmatively, advanced to the Public Forum Novice division quarterfinal, winning four of its first six rounds over teams from Concord-Carlisle, Newton South, and Acton-Boxborough. Ms. Khela and Mr. Pandey defeated Daniel Ding/Ayman Hamed from Newton South in the octo-final before falling to Suraj Chaudry/Tali Wachman, also of Newton South.
Other highlights included those of senior Rishi Ajmera, who won two rounds in the Lincoln-Douglas Varsity division; and freshmen Pranav Ajmera and Vinay Murugan, each of whom won two rounds in the Lincoln-Douglas Novice division.
CHS will host the Massachusetts Speech State Finals Saturday.
About Chelmsford Public Schools
The Chelmsford Public School District provides all students with multiple pathways to optimize their own potential for academic excellence, leadership, and social and emotional wellness. The mission of the Chelmsford Public Schools is to educate, engage, prepare, and empower well-rounded and knowledgeable learners to PERSEVERE through challenges, demonstrate RESPECT and INTEGRITY in their words and actions, are DEDICATED to their community, and display EMPATHY as global citizens while discovering and pursuing their full potential.  This PRIDE-driven culture enables all members of the school community to support the growth and development of students.  For more information, please visit www.chelmsfordschools.org.