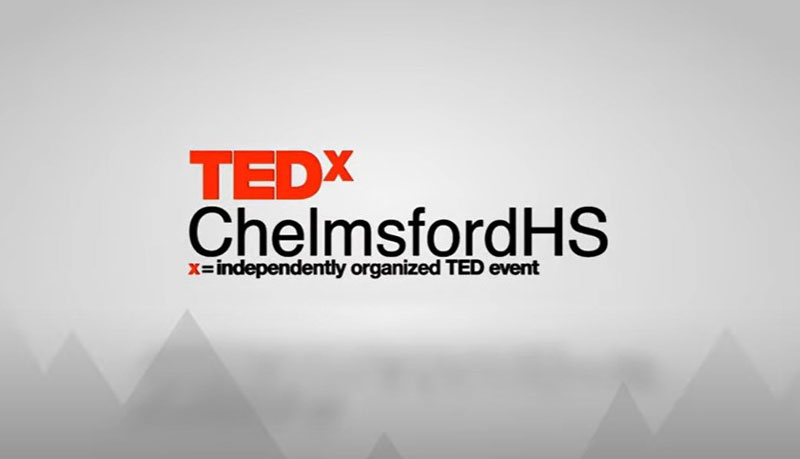 CHS TedEd Club Offers Inspiration, Insight at Saturday's TEDx Youth Chelmsford 2023 Showcase
in News
TEDx Chelmsford 2023 features eight student speakers
CHELMSFORD, MA (Mar. 22, 2023) – Inspiration, Insight and 'a-ha' moments will be in abundance when the Chelmsford High School TedEd Club hosts its Third Annual TEDx Youth Chelmsford Showcase Saturday, Mar. 25 (1-3 p.m.) at the Carl J. Rondina Performing Arts Center.
The event is free and open to the public. Doors open at 12:45 p.m.
Eight CHS student-leaders are scheduled to give 7-10 minute speeches in the TED Talk format on issues relevant to students and young adults to ignite discussion. The speakers for Saturday's showcase include:
Ken Damon (Sr.), Unplugging for a Brighter Future
Kartikey Brahmbhatt (Sr.), Thriving in Hardship
Jennifer Yu (Soph.), Rewriting Society's Definition of Health
Klara Vaskova (Soph.), How Astrology Can Change Your Life
Jocelyn Pica (Soph.), The Stereotypes Latinos Face in Society
Keya Upadhyay (Jr.), College at 18…Are you Ready?
Narissa AlDayaa (Sr.), Inside the Mind of a Teenager
Sophia Roy (Soph.), The Organ Shortage Crisis in America
"It is amazing to watch and support students developing incredible talks," said K-12 Mathematics Coordinator Dr. Matthew Beyranevand, advisor to the TedEd Club. "The club is well represented by students at every grade level and with differing views. Not only are students creating inspiring talks, but also learning the important skill of public speaking."
The CHS TedEd Club was founded by Sachi Badola (CHS Class of '22) in 2019. Saturday's event marks the third showcase (the 2020 and 2021 showcases were cancelled due to the Covid-19 outbreak).
"If participants come away from the talks motivated to make a positive difference in their lives or in society, then it was a success," said Dr. Beyranevand.
About Chelmsford Public Schools
The Chelmsford Public School District provides all students with multiple pathways to optimize their own potential for academic excellence, leadership, and social and emotional wellness. The mission of the Chelmsford Public Schools is to educate, engage, prepare, and empower well-rounded and knowledgeable learners to PERSEVERE through challenges, demonstrate RESPECT and INTEGRITY in their words and actions, are DEDICATED to their community, and display EMPATHY as global citizens while discovering and pursuing their full potential.  This PRIDE-driven culture enables all members of the school community to support the growth and development of students.  For more information, please visit www.chelmsfordschools.org.