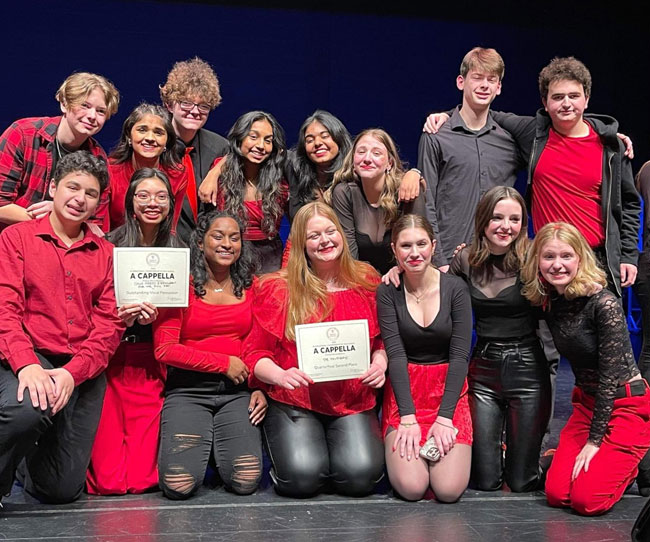 CHS's Thursdays Runner-up, Crescendos Third at ICHSA Northeast Region Quarterfinal
in News
Thursdays advance to ICHSA Northeast Regional Semifinal Mar. 19 in Worcester
CHELMSFORD, MA (Feb. 15, 2023) – Chelmsford High School's a cappella groups, The Thursdays and The Crescendos, finished second and third in at the International Championship of High School A Cappella (ICHSA) Varsity Vocals Northeast Region Quarterfinal Sunday afternoon at the Galvin Middle School in Wakefield, Mass.
With its finish, The Thursdays advance to the ICHSA Northeast Region Semifinal Sunday, Mar. 19 (3 p.m.) at Mechanics Hall in Worcester for the fourth consecutive year. The Thursdays captured the 2021 ICHSA Semifinal and advanced to the national final.
Sophomores Chloe Arroco and Ben Grant shared the award for Outstanding Vocal Percussion.
The Thursdays, who performed a three-song set which included "Edge of Seventeen" by Stevie Nicks, "Erase Me" by Lizzy McAlpine, and "I'm Tired" by Labrinth, compiled 390 points, second only to The Newtones of Newton South H.S., which placed first with 399 points.
"We were all pretty nervous leading up to the ICHSA Quarterfinal, as we wanted to make sure we were putting our best work on display," said Thursdays Co-President Madeleine Gaffney. "As soon as we got on stage that night, I could feel a sense of trust and confidence within all of us. I am so proud of how far the group has come, and we are beyond thrilled to be able to perform again at semifinals."
The Crescendos, who performed "Red Desert" by 5 Seconds of Summer, "Sunlight" by Hozier, and "Breath of Life" by Florence and the Machine, took third with 381 points.
The Crescendos, which have also advanced to three straight semifinal rounds and placed among the top three at NE Voices Jan. 27-28, will submit a video in attempt to move into the semifinal via a 'wild card' format. Two a cappellas will be selected.
"Both groups are quite happy with the current state of their sets, so there will be no dramatic overhauls," said Amanda Roeder, CHS Choir Director and advisor to both The Thursdays and The Crescendos. "At this level, they're focused on making the finer details very consistent."
Joining The Thursdays and The Newtones at the semifinal will be Spectrum, representing Plymouth North H.S.; Tonal Chaos, representing Saugus High School; For Good Measure of Mohonasen (N.Y.) H.S.; and Vocal Point of South Glens Falls (N.Y.) H.S.
About Chelmsford Public Schools
The Chelmsford Public School District provides all students with multiple pathways to optimize their own potential for academic excellence, leadership, and social and emotional wellness. The mission of the Chelmsford Public Schools is to educate, engage, prepare, and empower well-rounded and knowledgeable learners to PERSEVERE through challenges, demonstrate RESPECT and INTEGRITY in their words and actions, are DEDICATED to their community, and display EMPATHY as global citizens while discovering and pursuing their full potential. This PRIDE-driven culture enables all members of the school community to support the growth and development of students. For more information, please visit www.chelmsfordschools.org.