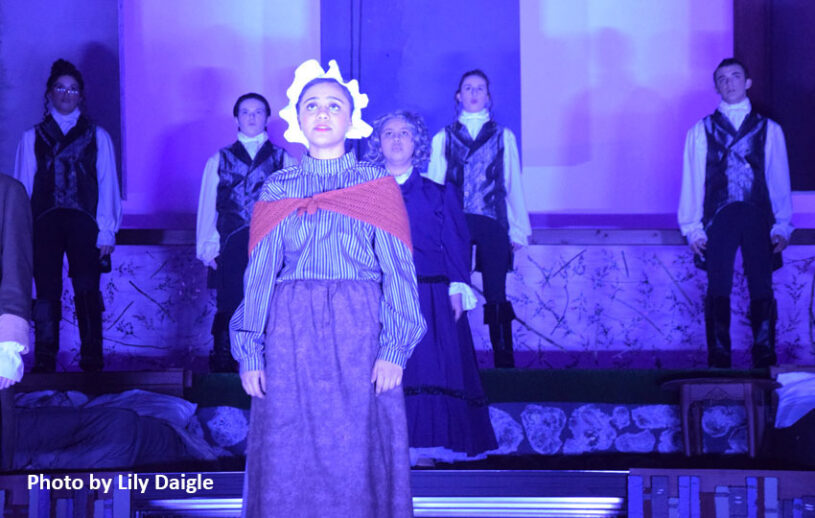 CHS Theatre Guild's Faith and Despondency Advances at METG High School Drama Festival
in News
Faith and Despondency moves on to METG regional as several actors earn honors
CHELMSFORD, MA (Mar. 30, 2022) – The Chelmsford High School Theatre Guild, is entering the second and final round of the Massachusetts Educational Theater Guild (METG) High School Drama Festival with its performance of the Faith and Despondency Saturday, Apr. 2 (1:30 p.m.) at Leominster High School.
A one-act play produced 12 years ago and re-adapted by the CHS Theatre Guild, Faith and Despondency advanced to the second round of the Festival following its stellar Mar. 20 performance at CHS's Carl J. Rondina Performing Arts Center.
Admission to the METG Festival regional round is $15. An open dress rehearsal is scheduled for Thursday evening at 7 p.m. at the Carl J. Rondina Performing Arts Center with admission of $5.
Seven Theatre Guild members received awards, led by seniors Sachi Badola, Darius Sobhian and Emily Magnant, who were cited for acting excellence. Additionally, senior Grace Mattsen, sophomore Kristen Shea and freshman Atef Alodeh were each cited in the category of Stage Management, while the CHS costume team and stage crew were also honored.
The CHS Theatre Guild was one of three schools to advance to the second round. Haverhill High School will perform This is a Test Saturday at North Reading H.S. (1:30) while the Academy of Notre Dame (Tyngsboro) will perform The Women of Lockerbie at Franklin H.S. at 10 a.m.
Faith and Despondency is one of five one-act plays on Saturday:
School: Performance (Time)
Burncoat High School: Lift Every Voice (9:30 a.m.)
Westford Academy: Weird Sisters & The Tragedy of MacBeth (10:30 a.m.)
Cambridge Rindge & Latin School: Sorry, Wrong Number (11:30 p.m.)
Chelmsford High School: Faith and Despondency (1:30 p.m.)
Wakefield Memorial High School: Good People (2:30 p.m.)
Two winners will be declared at each regional site.
Faith and Despondency includes original music composed by Ms. Badola and Mr. Sobhian. The play depicts the famous Bronte family – authors of Jane Eyre, Wuthering Heights, and Agnes Grey – and traces the inspiration of young girls received in youth through adulthood.
The play includes a cast and crew of more than 30 students.
The METG High School Drama Festival is limited to two rounds this year due to the lingering effects of the Covid-19 pandemic. The regional round encompasses 39 high school drama clubs over seven host schools.
About Chelmsford Public Schools
The Chelmsford Public School District provides all students with multiple pathways to optimize their own potential for academic excellence, leadership, and social and emotional wellness. The mission of the Chelmsford Public Schools is to educate, engage, prepare, and empower well-rounded and knowledgeable learners to PERSEVERE through challenges, demonstrate RESPECT and INTEGRITY in their words and actions, are DEDICATED to their community, and display EMPATHY as global citizens while discovering and pursuing their full potential. This PRIDE-driven culture enables all members of the school community to support the growth and development of students. For more information, please visit www.chelmsfordschools.org.