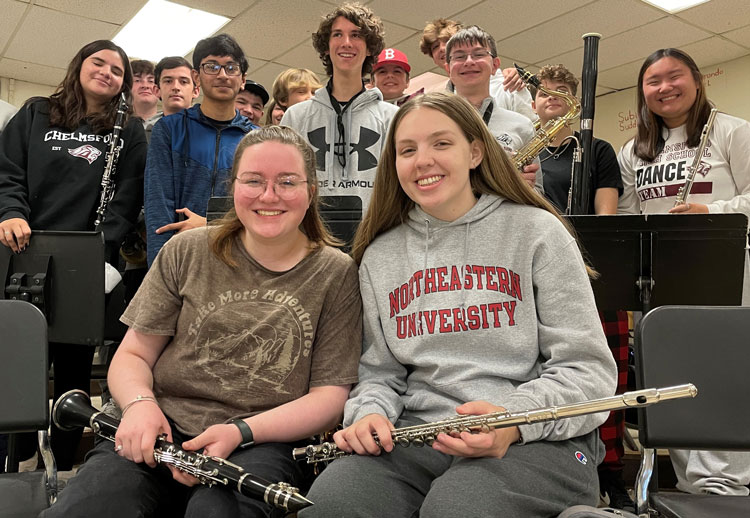 Four CHS Musicians Accepted into Western International Band Clinic Nov. 18-21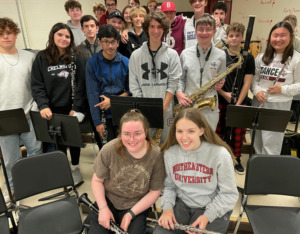 Seniors Rachel O'Brien, Sarah Buliszak to attend; Juniors Kyle Pinto, Keira Miller also accepted
CHELMSFORD, MA (Nov. 9, 2022) – Chelmsford High School music educator Matthew Sexauer had never nominated a student to attend the renowned Western International Band Clinic because it's over 3,000 miles away and involves missing a couple days of school.
This year, he was unable to resist because of a stellar cast of musicians. Four seniors earned acceptance into the WBIC – two of which will attend – Mr. Sexauer announced last week
Senior clarinetist Rachel O'Brien and senior flautist Sarah Buliszak will each attend the WBIC which runs Friday, Nov. 18 through Monday, Nov. 21, and is held at the Doubletree Hotel in Seattle. Juniors Kyle Pinto, a trombonist, and Keira Miller, who also plays clarinet, are unable to attend as they are performing in the orchestra pit for the 2022 fall musical Legally Blonde, scheduled for the same weekend.
"For students, it's one of the best (clinics)," said Mr. Sexauer. "It's the first time we've had two students participate. They are all model band students who did well in the audition. They are very dedicated when it comes to playing in a band and improving themselves."
Eight CHS student-musicians auditioned for the WBIC.
Ms. O'Brien and Ms. Buliszak will learn from world-renowned conductors and musicians while playing alongside some of the best high school musicians nationwide. Highlighting this year's guest instructors includes:
"The composers attending have created some of my favorite and most memorable pieces I have performed, and the opportunity to be under their batons is super exciting," Ms. Buliszak said. "I have previously participated in districts and all-state ensembles, and this seems like a once-in-a-lifetime opportunity that I could not pass up."
For the audition, Ms. Buliszak submitted "Sonata in F Major (Second Movement-Allegro)" and "Danny Boy." Ms. O'Brien also submitted a version of "Danny Boy" as well as the WBIC's "Minor Etude."
Each day at the WBIC is packed with instruction and rehearsals and highlighted with concerts at the end of each day. Students are split into four groups, enabling them to learn from each of the many guest conductors, composers, and musicians. On Monday, Nov. 21, the four WBIC Honor Bands – which will include Ms. O'Brien and Ms. Buliszak – will perform to end the clinic.
"It's not just showing up for rehearsals," said Mr. Sexauer. "Every student who attends gets to attend a student leadership clinic with Dr. Lautzenheiser, who is a leading clinician in student leadership. Sarah and Rachel will also get to play with four conductors."
Both Ms. O'Brien and Ms. Buliszak are hopeful of learning and taking in as much as they can.
"I am hoping to learn more about different types of music the guest conductors have written, along with tactics to better understand and deconstruct music," Ms. O'Brien said. "In that sense, I really hope to learn more about music as a whole. I find it all fascinating."
Ms. Buliszak and Ms. O'Brien plan on continuing their music careers in college while pursuing other areas of study. Though yet to decide on a college, Ms. Buliszak plans to study public health while Ms. O'Brien will pursue political science on a pre-law track.
Ms. Buliszak is the daughter of Mark and Jenn Buliszak. Ms. O'Brien is the daughter of Terry and Sandra O'Brien.
About Chelmsford Public Schools
The Chelmsford Public School District provides all students with multiple pathways to optimize their own potential for academic excellence, leadership, and social and emotional wellness. The mission of the Chelmsford Public Schools is to educate, engage, prepare, and empower well-rounded and knowledgeable learners to PERSEVERE through challenges, demonstrate RESPECT and INTEGRITY in their words and actions, are DEDICATED to their community, and display EMPATHY as global citizens while discovering and pursuing their full potential. This PRIDE-driven culture enables all members of the school community to support the growth and development of students. For more information, please visit www.chelmsfordschools.org.