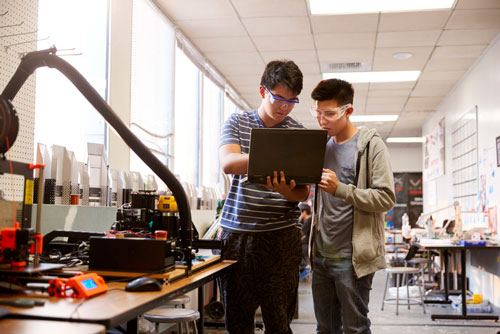 Innovation Pathways Parent/Guardian Information Sessions Slated for Tuesday, Feb. 8
in News
CHELMSFORD, MA (Feb. 1, 2022) – Chelmsford High School's Innovation Pathways program will hold two virtual information sessions on Tuesday, Feb. 8, for parents and guardians of 8th and 9th graders from 8-8:30 a.m. and again from 6-6:30 p.m.
Log on to the 8 a.m. Session
Meeting ID: 739 8194 6082
Passcode: d2ZB29
Log on to the 6 p.m. Session
Meeting ID: 790 7402 8435
Passcode: ZL1S3n
The sessions will be hosted by CHS K-12 Science Coordinator Jon Morris, K-12 Social Sciences Coordinator Stephanie Quinn and Career & College Readiness Facilitator Alexandra Cunningham, who oversee Innovation Pathways programming.
Among the discussion points will be the many benefits of enrolling in the Pathways, the application process, and new partnerships established to benefit our students.
Translation and interpreter services will be provided for the session. Attendance is not mandatory to enroll in Innovation Pathways.
For more information, contact either of the session's hosts: