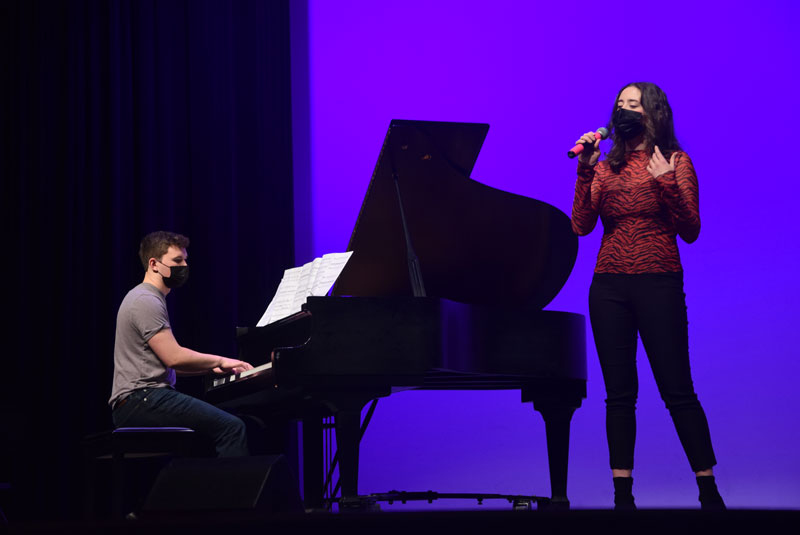 LIME's 2022 In Tune Showcase Raises $1,700 for Clean River Project
in News
CHELMSFORD, MA (Feb. 22, 2022) – Chelmsford High School's Leaders In Motion Everywhere (LIME), a student organization focused on teaching students leadership skills through event planning and management, raised more than $1,700 for the Clean River Project with its musical variety production of 'In Tune' Feb. 11 at the Carl J. Rondina Performing Arts Center.
Returning live to the PAC following a one-year absence due to the Covid-19 outbreak, In Tune featured a dozen student musicians and groups performing genres such as a cappella, blues, folk, classical violin and even beat box. The event drew 175 spectators.
"I think $1,700 is great," said Matt Bartos, an English teacher and advisor to LIME alongside Hawthorne House counselor Tammy Leary. "We didn't know what to expect. We were thinking it was our first time back, plus we had to delay once, but people still rallied. Performers were all in and people came out to support it."
Each year LIME board members choose a charity or cause for which to raise funds and chose The Clean River Project as this year's recipient. "Our board had reached out to them," said Mr. Bartos. "It was a chance to hear about a local group making an impact in their backyard."
Founded in 2005, The Clean River Project is a Methuen, Mass.-based nonprofit dedicated to cleaning and preserving a 45-mile area of the Merrimack River. Prior to the night's performances, Clean River Project President and CEO Rocky Morrison and Vice President Roland Lemieux addressed the audience to offer their appreciation and emphasize the importance of its mission.
"These funds will go to making sure we have fuel for the boats, any maintenance on the boats so we can continue to clean the river, disposal fees for the items we remove and insurance that is required," said Mr. Morrison. "We try to recycle everything and we have amazing partners to help reduce the fees we pay for disposal. However, items like TVs, computers, appliances, mattresses, tires, etc…, are expensive to dispose. There are strict guidelines we need to follow to dispose of the debris we pull from the river. Our work is so very rewarding and there are a lot of costs associated with the type of work we do."
Last year, LIME raised more than $700 for Project Bread, a Boston-based nonprofit which connects communities and individuals to reliable sources of food. In place of a live, in-person show, LIME streamed In Tune on YouTube for which student-musicians created videos beforehand with the help of Chelmsford Telemedia.
"It was so great being able to showcase all of the amazing talent at CHS, especially in support of a good cause," said LIME board member Daniel Schiefen, a senior. "This year's show was our most successful yet, raising more than we ever have in the past, and the board members from the Clean River Project were incredibly supportive of the event."
To donate to the Clean River Project, visit cleanriverproject.org/donate.\
Photos by Lily Daigle
About Chelmsford Public Schools
The Chelmsford Public School District provides all students with multiple pathways to optimize their own potential for academic excellence, leadership, and social and emotional wellness. The mission of the Chelmsford Public Schools is to educate, engage, prepare, and empower well-rounded and knowledgeable learners to PERSEVERE through challenges, demonstrate RESPECT and INTEGRITY in their words and actions, are DEDICATED to their community, and display EMPATHY as global citizens while discovering and pursuing their full potential.  This PRIDE-driven culture enables all members of the school community to support the growth and development of students.  For more information, please visit www.chelmsfordschools.org.