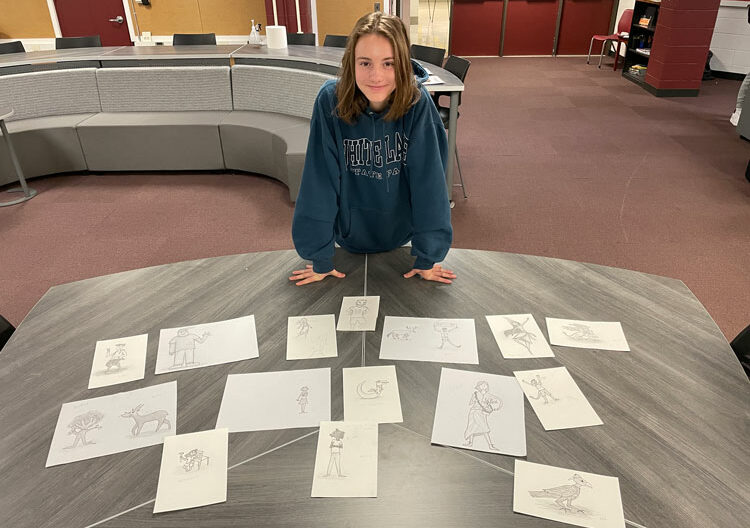 Lucy Frankland: Published Artist, Illustrator and Only a Freshman at Chelmsford High School
in News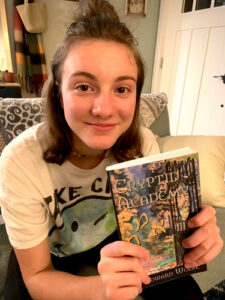 Ms. Frankland's illustrations featured throughout sci-fi fantasy novel, Cryptid Academy
CHELMSFORD, MA (Dec. 12, 2022) – She recently turned 15, but when Lucy Frankland begins completing applications for work and/or college, she can add the title of 'published illustrator.'
A freshman at Chelmsford High School, Lucy's illustrations – 15 of them – are featured throughout the new young adult sci-fi fantasy novel "Cryptid Academy," by Sudbury, Mass.-based author Howard Wolke, a family friend.
Artistry runs deep in the Frankland household. Lucy's mother, Amanda, is a well-known artist and photographer in the Merrimack Valley and an art educator at the Keystone Montessori School. Based on the illustrations in Mr. Wolke's novel, it is evident she has passed on her skills to her daughter.
"It was cool that he chose my work," said Lucy, who was able to get an advanced read of Cryptid Academy to develop a sense of appearance for each character. "I like it. It's definitely for middle schoolers, but I like it. It's a good story line."
"Cryptid Academy," Mr. Wolke's first novel, follows golems, djinns, nagas and fairies at middle school-themed Collinstein Academy, where each character is unique in appearance and behavior, and deals with the same issues that confront young adults.
"It's about how they kind of get kind of torn apart because of things that happen in school, and how they regroup and include everybody and exist together," said Lucy. "I like the mystery part of it. It's about truth. The main character is a golem, and they're built upon truth so they can't tell a lie. So that's kind of an interesting addition to the story.
"But I like that it's about inclusivity and truth," she added.
Golems, djinns, nagas and fairies are characters perhaps a middle school-aged artist is best suited to illustrate, which is what Mr. Wolke was looking for last year when he was in the final stages of his novel. "I liked the idea of an eighth grader doing the illustrations," he said. "Lucy has a great mental eye for what the characters look like and her style is perfect."
Through character descriptions in the back pages, Lucy was able to shape the appearance of each character. Over the next weeks, with regular virtual meetings with Mr. Wolke, she brought each one to life. "Lucy did such a great job working with me on this," Mr. Wolke said. "Every step of the way, Lucy was there and with it and her illustrations are amazing."
Mr. Wolke's book release was part of a science fiction discussion on Nov. 29 at the Silver Unicorn Bookstore in Acton, where he acknowledged his young illustrator, eliciting applause from the friends and family who attended.
The sequel to Cryptid Academy is already underway, and Mr. Wolke is hopeful of a spring 2024 release. He's already approached Lucy about the artwork.
"I wouldn't do it without her illustrations," Mr. Wolke said.
About Chelmsford Public Schools
The Chelmsford Public School District provides all students with multiple pathways to optimize their own potential for academic excellence, leadership, and social and emotional wellness. The mission of the Chelmsford Public Schools is to educate, engage, prepare, and empower well-rounded and knowledgeable learners to PERSEVERE through challenges, demonstrate RESPECT and INTEGRITY in their words and actions, are DEDICATED to their community, and display EMPATHY as global citizens while discovering and pursuing their full potential. This PRIDE-driven culture enables all members of the school community to support the growth and development of students. For more information, please visit www.chelmsfordschools.org.