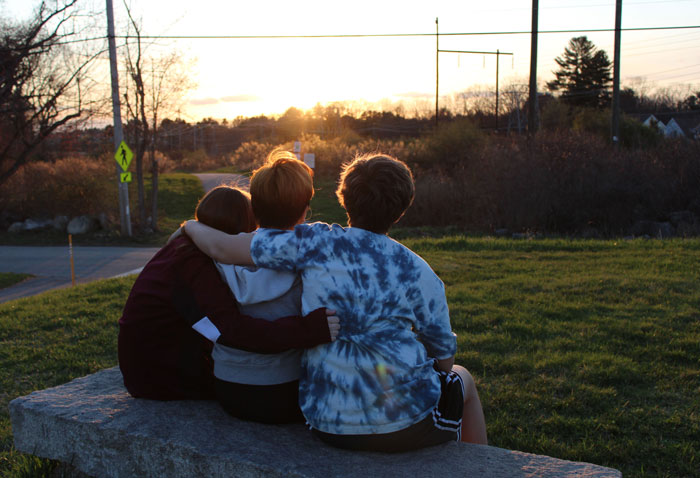 CHS's Nokham-Naylor Named Runner-Up in Hunt's Photo and Video High School Photography Contest
in News
Freshman Ella Fazio named finalist; photos on display in Hunt's Canon Gallery
CHELMSFORD, MA (May 3, 2023) – Ponsavanh Nokham-Naylor, a junior at Chelmsford High School, was named the runner-up in the Hunt's Photo and Video High School Photo Gallery Contest, the Melrose-based photography retailer announced Saturday in a reception at its Canon Gallery.
Ms. Nokham-Naylor, along with freshman Ella Fazio, had been named among 20 finalists earlier in April. Ms. Nokham-Naylor received a $250.00 gift card to benefit the CHS photography department while her and Ms. Fazio's photographs will be displayed in Hunt's Melrose Gallery.
Anoke Deitg-Blanchard, a freshman at Cambridge Rindge and Latin H.S., was named the winner and received a $500 gift card to her school's photography department.
"We were thrilled to find out that both photographs were chosen as finalists and that Ponsavanh's photograph won second place," said Allison Gover, who teaches photographic and digital arts at CHS. "It is an honor to have some of our students' work showcased in the exhibition at their gallery in Melrose. Ponsavanh and Ella are great students in Photography and I'm very proud to have them participating in the show."
The theme of the contest was 'Family Pride,' which both Ms. Nokham-Naylor and Ma. Fazio nicely captured.
Ms. Nokham-Naylor's image depicted three of her friends huddled on a stone bench watching the sunset on a mild afternoon. A student in Ms. Gover's Photography 2 class recalls being moved by the moment.
"For me, friends are sometimes more family than actual family," Ms. Nokham-Naylor said. "My friends and I were hanging out and decided to take this picture. It had felt like the world stopped, like only us mattered; that no matter what, we would always have each other."
The image also struck Ms. Gover. "This photograph has exceptional golden hour lighting which lights up the outlines of the figures, and because it does not include faces, the viewer can easily imagine themselves in the scene," she noted.
Ms. Nokham-Naylor is considering majoring in either photography or filmmaking in college with the possibility of pursuing sports photography. She is currently a member of the CHS Yearbook staff photographing the softball team for the season.
Ms. Fazio's photo depicts a young boy leading, presumably, his grandmother by the hand to a nearby comfortable chair. "In my image, I was trying to get across the importance and meaning of family love and how special it is to me," said Ms. Fazio, who is a member of Ms. Gover's Digital Photography class.
"Ella's photograph is a slice-of-life image which shows a sweet, everyday family moment," said Ms. Gover. "The figures' interaction hints at the relationships between generations in the family."
Ms. Nokham-Naylor is the daughter of Mr. and Mrs. David Naylor.
Mr. Fazio is the daughter of James and Rita Fazio.
About Chelmsford Public Schools
The Chelmsford Public School District provides all students with multiple pathways to optimize their own potential for academic excellence, leadership, and social and emotional wellness. The mission of the Chelmsford Public Schools is to educate, engage, prepare, and empower well-rounded and knowledgeable learners to PERSEVERE through challenges, demonstrate RESPECT and INTEGRITY in their words and actions, are DEDICATED to their community, and display EMPATHY as global citizens while discovering and pursuing their full potential. This PRIDE-driven culture enables all members of the school community to support the growth and development of students. For more information, please visit www.chelmsfordschools.org.