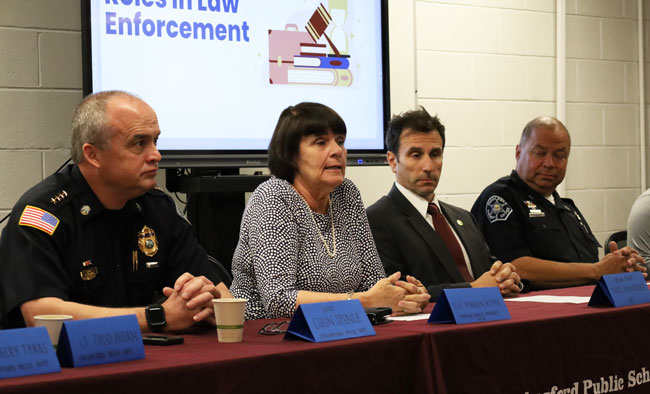 Six Agencies Take Part in Second Annual Roles in Law Enforcement Panel at CHS Career Center
in News
Panel draws more than 40 students considering careers in law enforcement
CHELMSFORD, MA (June 12, 2023) – Members of six state and federal agencies were represented Thursday morning at the Second Annual Roles in Law Enforcement Panel, which drew more than 40 students, at the Chelmsford High School Career and College Readiness Center.
Officials in attendance included:
Todd Ahern, Lieutenant, Chelmsford Police Department
Mark Brighenti, Lieutenant, Massachusetts Environmental Police
Matt Fernald, Officer, Chelmsford Police Department
Chris Gianakura, Special Agent, FBI
James Makris, Officer, Massachusetts Environmental Police
Marian Ryan, Middlesex County District Attorney
Colin Spence, Chief, Chelmsford Police Department
Emily Todisco, Massachusetts State Police Special Operations
Becky Tyros, Detective, Chelmsford Police Department, SRO, Chelmsford High School
Bob Wright, Officer, Middlesex County Sheriff's Department
The panel was moderated by incoming Class of 2024 President Rohan Madhukumar who presented several questions to each official, each of whom offered frank and honest responses.
Officials spoke of why they chose a career in law enforcement, several of which cited military service as not only an influence, but a fast track to their careers. Perhaps unknown to the students in attendance, the panelists also noted the many opportunities available within different branches of law enforcement.
The question of what a typical day looks like elicited responses ranging from working odd hours, mundane and often unproductive surveillance to precarious situations that can result in injury or worse. Several officials even discussed open cases and the valuable role that DNA plays.
When the hour-long question-answer session had ended, each of the 10 officials remained long after to answer further questions from students.
"We are overwhelmed with the response and the attendance of the officials who attended Thursday's session," said Alexandra Cunningham, Career and College Readiness Facilitator at CHS. "This marked the second straight year we hosted a 'Roles in Law Enforcement' panel, and it has been a huge success. This was a terrific session for our students and we're looking forward to next year."
About Chelmsford Public Schools
The Chelmsford Public School District provides all students with multiple pathways to optimize their own potential for academic excellence, leadership, and social and emotional wellness. The mission of the Chelmsford Public Schools is to educate, engage, prepare, and empower well-rounded and knowledgeable learners to PERSEVERE through challenges, demonstrate RESPECT and INTEGRITY in their words and actions, are DEDICATED to their community, and display EMPATHY as global citizens while discovering and pursuing their full potential.  This PRIDE-driven culture enables all members of the school community to support the growth and development of students.  For more information, please visit www.chelmsfordschools.org.