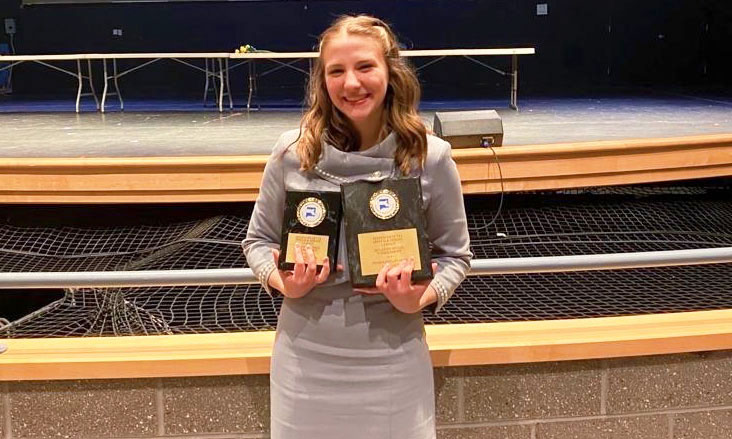 In Prep for Nationals, CHS Sophomore Sophia Roy Takes First in Informative Speaking at MSDL Final
in News
Ms. Roy also earns third place in Declamation Speaking; NSDA Final June 11-16
CHELMSFORD, MA (Apr. 11, 2023) – Sophomore Sophia Roy shined with first place and third-place plaques to lead the host Chelmsford High School Speech and Debate Team at the Massachusetts Speech and Debate League (MSDL) Final Saturday, Apr. 1.
Ms. Roy placed first in the category of Informative Speaking, in which a student explains, describes and informs an audience on a particular subject; and third in Declamation Speaking, in which a student delivers a speech written and spoken by a second party.
Ms. Roy's effort at the MSDL Final follows a stellar result at the New England District Speech and Debate Tournament Feb. 3-4 when her speech, 'I Heel Sexy,' detailing the history of high heels, booked her place at the National Speech and Debate Association (NDSA) National Tournament in Phoenix and Mesa, Ariz., June 11-16.
Ms. Roy placed first in Informative Speaking with her delivery of 'It Takes Guts,' which addresses the organ shortage crisis in America. "I was super excited getting first in Informative (Speaking), because I really have put my heart and soul into it," she said. "It's my main event, and I really love sharing the speech community topics I'm passionate about, especially science.
"I changed my topic because I wanted it to be more impactful for when I go to nationals in June," she added. "Now I talk about the history of organ transplants and some reasons why we are experiencing a shortage of organs in America."
In the Declamation Speaking competition, Ms. Roy placed third for her delivery of the Robin Hauser Ted Talk, 'The Likability Dilemma Women Leaders,' which addresses why strong women can be viewed as neither likable nor competent. She finished behind only Paul Mahoney of Catholic Memorial and Adele Fuzaylov of Shrewsbury.
Ms. Roy is currently preparing for the NDSA National Tournament where she will compete in the categories of Informative Speaking and Expository Speaking.
About Chelmsford Public Schools
The Chelmsford Public School District provides all students with multiple pathways to optimize their own potential for academic excellence, leadership, and social and emotional wellness. The mission of the Chelmsford Public Schools is to educate, engage, prepare, and empower well-rounded and knowledgeable learners to PERSEVERE through challenges, demonstrate RESPECT and INTEGRITY in their words and actions, are DEDICATED to their community, and display EMPATHY as global citizens while discovering and pursuing their full potential.  This PRIDE-driven culture enables all members of the school community to support the growth and development of students.  For more information, please visit www.chelmsfordschools.org.