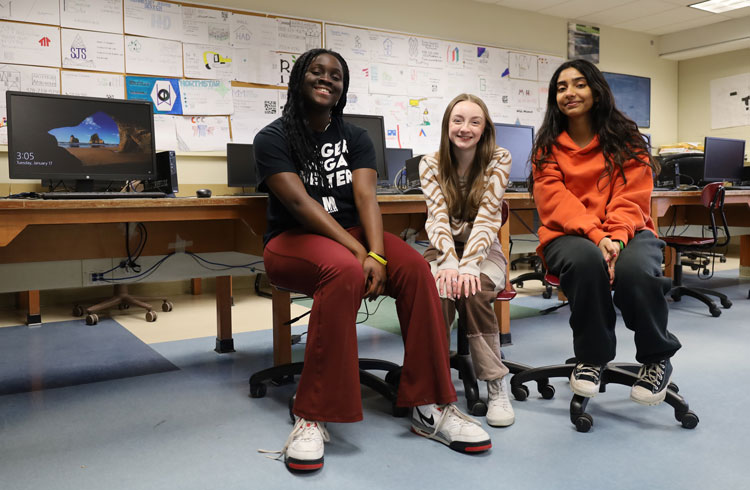 Women in STEM Club Offering Insight and Opportunities for CHS Students
in News
Women in STEM to showcase local STEM professionals, alumni to share experiences
CHELMSFORD, MA (Jan. 23, 2023) – There are several clubs and organizations at Chelmsford High School that cater to the interests of nearly every student interested in science, technology, engineering and manufacturing (STEM).
But seniors Hope Hebert and Tanya Banerjee were looking for something specific to women. It was in a physics class last year that Ms. Hebert had a revelation: a new club for women, by women interested in pursuing STEM.
"We were thinking about all the clubs that are at CHS right now, and a lot of them are male-dominated as far as STEM clubs," said Ms. Hebert. "So we just decided, 'you know what, let's just start our own.'"
According to a Jan. 26, 2021 news item by the U.S. Census Bureau, the number of women in STEM careers has risen from 8 percent in 1970 to 27 percent in 2019. The article notes that women make up nearly half the U.S. workforce, yet 73 percent of STEM careers are occupied by men.
That very statistic amplifies the mission of Women in STEM: to showcase the many opportunities for women – in higher education and careers – in each of the four fields.
Women in STEM is merely months old and has 12 members. The club was gearing for its first event on Friday, Jan. 20 – Kelly Zatopec, a research scientist at New England Biolabs, was to appear at the CHS Career & College Readiness Center – only to be postponed by inclement weather.
Ms. Zatopec's impending appearance is expected to be one of several by STEM professionals in various industries at CHS this year.
Ms. Hebert and Ms. Banerjee also plan to invite professionals in areas such as coding, computer science, and the medical profession to speak about their career pathways.
"As Hope said it's very intimidating joining these STEM majors or classes because they're dominated by men," said Ms. Banerjee. "Our club kind of takes the edge off that and makes it easier to explore interests in STEM subjects and see which you're more likely to enjoy. That also would help for deciding your major in college and hopefully get more women into STEM."
Ms. Hebert and Ms. Banerjee are also in search of CHS alumni majoring in STEM subjects in college to share their experiences.
Though undecided on a college, Ms. Banerjee plans to study biology. Over the summer, she attended the Los Angeles Summer STEM Camp at UCLA where she attended daily lectures from different professionals and afternoon workshops in a wide range of STEM fields.
"The first half of the day we listened to lectures from different scientists with different jobs," Ms. Banerjee said. "In the afternoons we did workshops where we would expand on topics. That's where I realized I wanted to do bio."
Ms. Hebert, named Student of the Month in October, plans to study psychology research and is awaiting application status at several colleges.
Along with Ms. Hebert and Ms. Banerjee, the Women in STEM executive board includes seniors Nhyira Nkansah, treasurer, and Hope Zhao, secretary. Among the dozen members, about half are underclasswomen.
Though all four will graduate in less than six months, they are hopeful the club has a future that includes membership growth, exposure to STEM possibilities and ultimately more CHS women choosing STEM pathways.
"I really hope it continues and does a lot more bigger things," Ms. Hebert said. "My biggest hope is that it can become part of a bigger organization and be more a part of the community."
About Chelmsford Public Schools
The Chelmsford Public School District provides all students with multiple pathways to optimize their own potential for academic excellence, leadership, and social and emotional wellness. The mission of the Chelmsford Public Schools is to educate, engage, prepare, and empower well-rounded and knowledgeable learners to PERSEVERE through challenges, demonstrate RESPECT and INTEGRITY in their words and actions, are DEDICATED to their community, and display EMPATHY as global citizens while discovering and pursuing their full potential. This PRIDE-driven culture enables all members of the school community to support the growth and development of students. For more information, please visit www.chelmsfordschools.org.