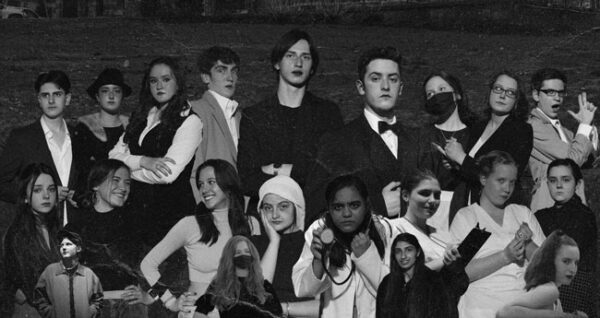 CHS's Feature-Length Film, The Mystery at Pendleton Manor, to be Screened June 10 and 11
in Newsletters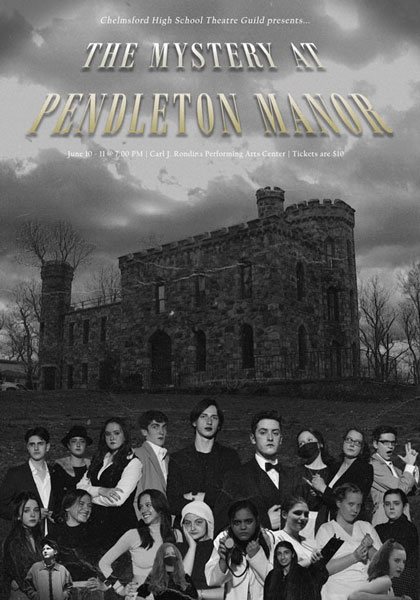 CHELMSFORD, MA (June 2, 2021) – The Mystery at Pendleton Manor, the feature-length film written, filmed and performed by the students of the Chelmsford High School Theatre Guild, will be screened Thursday and Friday, June 10 and 11 (7:00 p.m.), at the Carl J. Rondina Performing Arts Center.
Admission is $10 per person and limited to a capacity of 250 for each night (audience members are required to wear a mask). Tickets can be purchased by any cast member or on the night of the show at the door. To reserve seats, contact Lauren Cochran, CHS Theater Director, and mail a check payable to the CHS Theatre Guild, 200 Richardson Road, Chelmsford, Mass., 01863.
A Red Carpet event is slated for 6:00 Thursday for media and invited guests (formal attire required).
The Mystery at Pendleton Manor was written by five CHS students: seniors Pierce Magnant and Simran Malhotra; juniors Sachi Badola, Keira Comtois and Darius Sobhian; as well as local playwright Eloise Hoffman, under the direction of Ms. Cochran. Each of the student writers plays a role in the film while CHS students also wrote and performed the musical score.
"It's going to be great fun for the kids and those who know them," said Ms. Cochran. "I'm very proud that they saw it through. In a unique year, I'm just really glad they had something to do and something to look forward to."
In any given year, the CHS Theatre Guild stages 3-5 musicals and plays each year, but it was unable to do so due to Covid-19 restrictions. Instead, students banned together and proposed a feature-length film. Filming began in September 2020 and commenced all year. Final edits are to be done by the end of this week.
Said Ms. Cochran, producing a film is far different from a play or musical. "We were all just learning as we went," she said. "It is just so different from theater. Theater is linear, and film is not linear at all. It was a big education for all of us."
The Mystery at Pendleton Manor depicts 90-year-old billionaire Jebediah Pendleton, who invites his nieces and nephews to Pendleton Manor – in the midst of a pandemic – for a series of skills to determine who is worthy of inheriting his estate. What ensues is a mix of old jealousies, hidden romances and backstabbing that turns to chaos.
The two-hour film features more than 20 CHS student actors and was filmed largely outside the Winnekenni Castle in Haverhill, Mass., the Masonic Temple in Lowell as well as the High School.
As restrictions continue to loosen, the film is the latest event to be held at the PAC. On May 20, CHS staged its first live plays since March of 2020 with student-run original productions The King Is Dead and The Last Person on Earth, which each ran three nights to a limited audience of 100 per show.
About Chelmsford Public Schools
The Chelmsford Public School District provides all students with multiple pathways to optimize their own potential for academic excellence, leadership, and social and emotional wellness. The mission of the Chelmsford Public Schools is to educate, engage, prepare, and empower well-rounded and knowledgeable learners to PERSEVERE through challenges, demonstrate RESPECT and INTEGRITY in their words and actions, are DEDICATED to their community, and display EMPATHY as global citizens while discovering and pursuing their full potential.  This PRIDE-driven culture enables all members of the school community to support the growth and development of students.  For more information, please visit www.chelmsford.k12.ma.us.