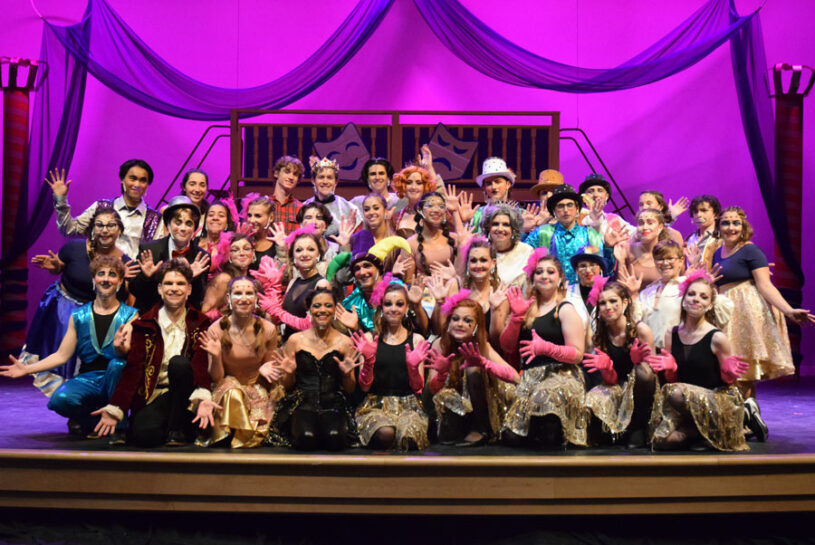 CHS Theatre Guild Compiles 17 TAMY Award Nominations
in News
Production of 'Pippin' yields seven individual nominations, 10 ensemble nominations
Photo courtesy of Lily Daigle '22
CHELMSFORD, MA (May 23, 2022) – The Chelmsford High School Theatre Guild compiled 17 award nominations as Mount Wachusett Community College's Theatre at the Mount (TAMY) announced its nominations for the 2022 High School Musical Theatre Competition, released last week.
The nominations were based on the Guild's production of Pippin, which ran from Nov. 18-20 at the Carl J. Rondina Performing Arts Center. Among the many nominations, Pippin is one of six productions nominated for Best Overall Production in the large school division.
Seven CHS student-actors received nominations in eight individual categories while the CHS cast received 10 nominations in 11 ensemble categories.
"Any nominations are always an honor and in the past Chelmsford has been fortunate enough to receive many," said CHS Theatre Director Lauren Cochran. "The talent in Chelmsford is always outstanding."
The honors are the latest for the CHS Theatre Guild this year. Its original production of Faith and Despondency received Regional Finalist honors at the Massachusetts Educational Theater Guild High School Theater Festival Apr. 2.
Award winners in all categories will be announced Sunday, June 12 at the TAMY Awards Gala at MWCC in Gardner, Mass.
Among the Guild's seven individual nominations, seniors Sachi Badola and Darius Sobhian received Best Actress/Actor nominations while seniors Lyla El-Gamel and Connor Quirbach received nods for Best Supporting Actress/Actor.
The honor marks the second straight TAMY honor for Ms. Badola, who received Best Musical Theatre Solo at the 2021 TAMY Awards, held remotely.
Ms. Badola was nominated for her portrayal of Leading Player while Mr. Sobhian was cited for the main character role. Ms. El-Gamel played the role of Catherine while Mr. Quirbach was cast as Charles. Additionally, senior Keira Comtois was nominated for Best Featured Actress for her role as Bertha while senior Avery Marr received the Not Your Average Chorus Member medal.
Ms. Marr was part of the CHS Chorus which was nominated for Best Chorus in the Large School Division. Musically, CHS was also nominated in the categories of Best Student Orchestra and Best Production Number for large schools.
Technically, the Guild was also well represented with nominations for Best Stage Crew, Technical Excellence-Lighting and Technical Excellence-Sound among large schools. Other ensemble nominations included those for Best Costumes, Hair and Makeup, Visual Excellence and Best Dance Ensemble.
"Being back with live theatre this fall, I think inspired students to continue to strive for excellence," said Ms. Cochran. "We decided on a fun show to bring people back into the theatre and it worked. Many parts gave many students the chance to shine and the nominations show that."
About Chelmsford Public Schools
The Chelmsford Public School District provides all students with multiple pathways to optimize their own potential for academic excellence, leadership, and social and emotional wellness. The mission of the Chelmsford Public Schools is to educate, engage, prepare, and empower well-rounded and knowledgeable learners to PERSEVERE through challenges, demonstrate RESPECT and INTEGRITY in their words and actions, are DEDICATED to their community, and display EMPATHY as global citizens while discovering and pursuing their full potential.  This PRIDE-driven culture enables all members of the school community to support the growth and development of students.  For more information, please visit www.chelmsfordschools.org.