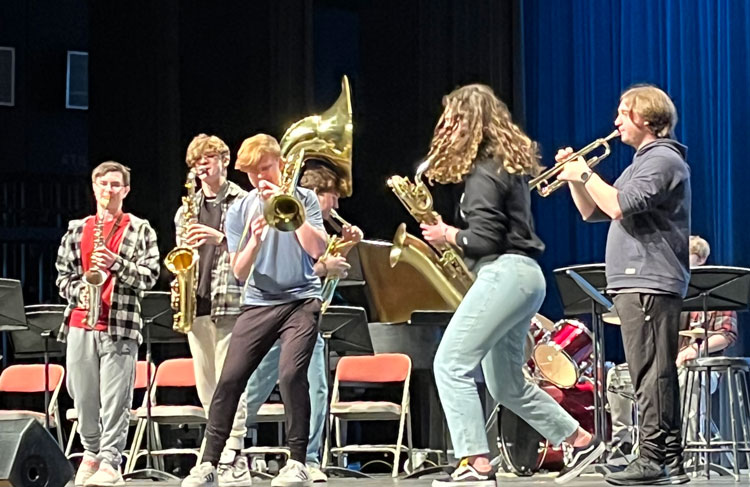 Eight CHS Student-Musicians Inducted into Tri-M National Honor Society
in News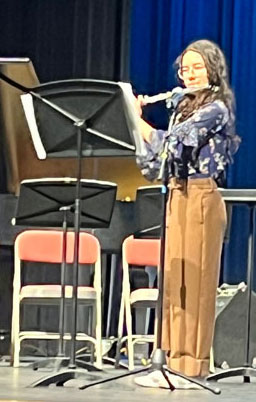 2023 class includes six underclassmen including three freshmen
CHELMSFORD, MA (Feb. 27, 2023) – Eight student-musicians from Chelmsford High School were inducted into the Tri-M Music Honor Society in a ceremony held Feb. 13 at the Carl J. Rondina Performing Arts Center.
The Inductees included:
Aryaman Bajpai (Jr.), Cello
Jade Boyer (Fr.), Flute
Elizabeth Kelliher (So.), Tenor Saxophone
Carter Lindberg (Jr.), Baritone Saxophone
Katherine Sanroma (Sr.), Flute
Mia Troncoso (Fr.), Vocalist
Sofia Trottier (So.), Flute
Joshua Wolman (Fr.), Bassoon
The honor is the latest for two of the inductees, most notably Ms. Boyer, who was among seven CHS students accepted into the Massachusetts Music Educators Association (MMEA) All-State Festival, scheduled for Saturday, Mar. 4 at Symphony Hall in Boston. Previously, she was among 19 CHS musicians, along with Mr. Wolman, to be selected to the MMEA Northeast Senior District Festival.
Following the ceremony, new inductees performed with current members in a variety of groups.
The only music honor society for junior/middle school and high school students in the country, the Tri-M Music Honor Society is a program of the National Association for Music Education (NAfME), which focuses on creating future leaders in music education and advocacy. Tri-M inductees are selected on academic achievement (determined by overall grade point average and grades in music classes), commitment to service (a minimum of five music-related community service hours) and demonstrated leadership qualities within their ensembles.
The advisor to the CHS Tri-M Music Honor Society is chorus educator and director Amanda Roeder.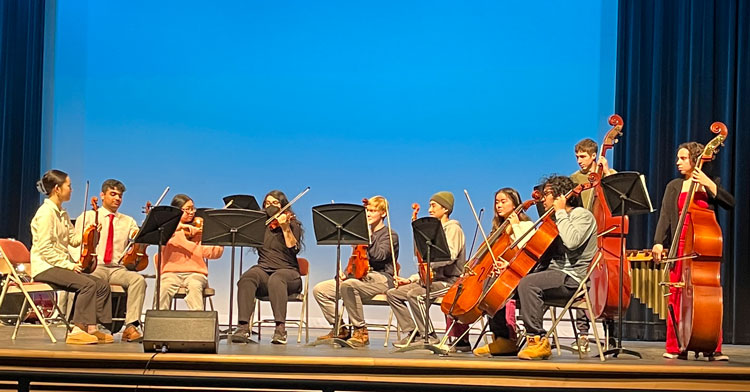 About Chelmsford Public Schools
The Chelmsford Public School District provides all students with multiple pathways to optimize their own potential for academic excellence, leadership, and social and emotional wellness. The mission of the Chelmsford Public Schools is to educate, engage, prepare, and empower well-rounded and knowledgeable learners to PERSEVERE through challenges, demonstrate RESPECT and INTEGRITY in their words and actions, are DEDICATED to their community, and display EMPATHY as global citizens while discovering and pursuing their full potential.  This PRIDE-driven culture enables all members of the school community to support the growth and development of students.  For more information, please visit www.chelmsford.k12.ma.us.