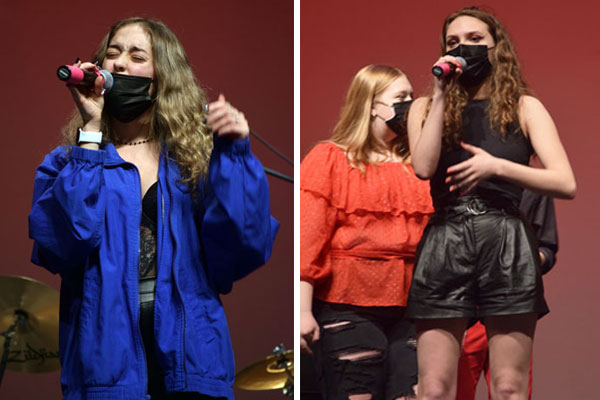 CHS's The Crescendos, The Thursdays Gear for ICHSA Northeast Region Semifinal
in News
Northeast Semifinal scheduled for Saturday, Mar. 12 in Worcester
CHELMSFORD, MA (Mar. 8, 2022) – Chelmsford High School a cappellas The Crescendos and The Thursdays each qualified for the International Championship of High School A Cappella (ICHSA) Northeast Semifinal round, slated for Saturday, Mar. 12 (3 p.m.) at Mechanics Hall in Worcester.
The appearance will mark the third straight year that both CHS a cappellas have qualified for the semifinal. The Thursdays have qualified the last seven years while the Crescendos have made the semifinal round three straight years. They are two of eight a cappellas in the Northeast gearing for a bid to the ICHSA championship Apr. 22-23 at the Town Hall Theater in New York City.
Other a cappellas appearing in the semifinal include NOTEorious, representing North Reading High School; South Avenue of Plymouth South H.S.; Voices Rechoired or Marlborough H.S.; Falconize of Danvers H.S.; Vocal Point of South Glens Falls (NY) H.S.; and Rhythm on Rye (NY) H.S.
NOTEorious and Voices Rechoired, along with CHS's a cappellas, recently performed at the NE Voices 2022 Festival Saturday, Feb. 5.
The Thursdays captured last year's virtual ICHSA Northeast Region crown for the fourth straight year with their performance of 'Evergreen' by the artist Yebba (via video). The Crescendos, who performed a mashup of U2's 'I Still Haven't Found What I'm Looking For' and 'Otherside' by Perfume Genius, placed outside the top three a cappellas. Northern Lights, of Plymouth North H.S., placed second while Vibe of Plainview-Old Bethpage JFK H.S., placed third.
Having advanced to the finals four straight years, The Thursdays peaked in 2019 with a third-place finish.
The Thursdays will perform three songs at the semifinal: 'Skyfall' by Adele, 'October Sky' by Yebba, and 'All For Us' by Labrinth, with transitions throughout their set from a song titled 'The Sailor' by Rich Bryan. Jackie Pottle, Co-President of The Thursdays, said the group is practicing twice a week and is thankful to be in front of crowds again.
"A lot of our members are either new or joined during our virtual year, so they have been very excited to be able to perform for the first time for a live audience," said Ms. Pottle, who was named Outstanding Soloist of the Northeast Region last year. "At NE Voices this year, it was our first time performing a competition set live since 2020, and it was an exhilarating experience. We are all so grateful to be able to sing with other people and share our music again."
The Thursdays graduated six vocalists from last year's group.
The Crescendos will perform 'Moderation' by Florence and The Machine; 'Planets' by Joseph; and 'The Kiss of Venus III Reimagined' by Dominic Fike. Amanda Roeder, CHS Choir Director and advisor to both the Crescendos and The Thursdays, arranged the a cappella on 'Planets' while seniors Sachi Badola and Sophie Bruetsch created the arrangement on 'The Kiss of Venus III Reimagined.'
The Crescendos, who graduated two seniors last spring, have been rehearsing between 4-6 hours each week in addition to individual member rehearsals, said Ms. Badola, who serves as Music Director/Co-President with Lily Daigle. Their performance at the NE Voices Festival was excellent preparation.
"In prep for semis, the group is working on micro dynamics and building stamina," Ms. Badola said. "We also really enjoyed participating in the NE Voices Festival, where we got to perform our set in a showcase and work on details during a masterclass. Another important part of prep is group culture. We always listen to past performances and reflect as a full group on the 'grows' and 'glows' of the performance, so everyone's perspective is included."
Admission to the ICHSA Northeast Region Semifinal is $20. Tickets can be purchased on the Varsity Vocals website.
About Chelmsford Public Schools
The Chelmsford Public School District provides all students with multiple pathways to optimize their own potential for academic excellence, leadership, and social and emotional wellness. The mission of the Chelmsford Public Schools is to educate, engage, prepare, and empower well-rounded and knowledgeable learners to PERSEVERE through challenges, demonstrate RESPECT and INTEGRITY in their words and actions, are DEDICATED to their community, and display EMPATHY as global citizens while discovering and pursuing their full potential.  This PRIDE-driven culture enables all members of the school community to support the growth and development of students.  For more information, please visit www.chelmsfordschools.org.