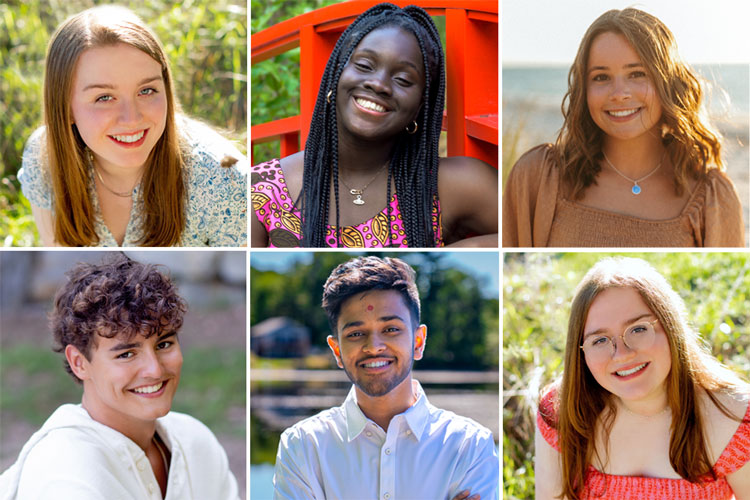 Chelmsford High School Announces December 2022 Students of the Month
in News
CHELMSFORD, MA (Dec. 23, 2022) – Six seniors were recently honored as Chelmsford High School named its Lions Pride/Rotary Student of the Month recipients for the month of December, announced CHS Principal Stephen Murray.
Seniors Jessica and Rachel O'Brien were named from Emerson House while Nathaniel Murray and Nhyira Nkansah were honored from Hawthorne House, and Jash Bhut and Julia Williams from Whittier House.
Sponsored by the Chelmsford Rotary Club for more than 30 years, the Student of the Month program recognizes outstanding students from each of CHS's three academic houses – Emerson House, Hawthorne House, and Whittier House – for their achievements in and out of the classroom.
Jessica O'Brien
Inducted into four national honor societies, Ms. O'Brien is currently enrolled in challenging courses such as AP Environmental Science, International Relations, Pre-Calculus and Modern World Literature among others, and is omnipresent throughout the CHS community.
Along with her membership in the National Honor Society as well as the English, Science and Spanish honor societies, Ms. O'Brien is a member of Leaders in Motion Everywhere (LIME), American Sign Language (ASL) Club, CHSTv and Women in STEM. She has served as LIME's head of donations for its drive-through trick-or-treating effort as well as In-Tune, a fundraising talent show. Simultaneously, she competes on the outdoor track and field team.
Off campus, Ms. O'Brien has also been active with Chelmsford's Meals on Wheels and as a junior counselor for Summerfest.
Undecided on a college, Ms. O'Brien plans to study and pursue a career in exercise or health science. She is the daughter of Terry and Sandra O'Brien and twin sister of Emerson House Student of the Month recipient Rachel.
Rachel O'Brien
An accomplished student and musician, Ms. O'Brien is a member of the National Honor Society, National English Honor Society and French National Honor Society while thriving in challenging coursework. Among the classes in which she is enrolled include AP French Language and Culture, AP English Literature and Composition, Honors Common Law and Trial Procedures, and Introduction to Statistics (dual enrollment), among others.
Last spring, Ms. O'Brien was presented with the St. Michael's College Book Award ('Lulu In the Sky: A daughter of Cambodia finds love, healing, and double happiness' by Luong Ung) for her academic success and service to the Chelmsford community. Her community service efforts include volunteering at LIME's drive-through trick-or-treating event as well as the Massachusetts Educational Theater Guild (METG) Drama Final.
Ms. O'Brien is also involved with the Melting Pot Club, Mock Trial Team, CHSTv, as well as Tri-M, a music mentoring program. An accomplished clarinetist, she was one of four CHS musicians selected to the Western International Band Clinic, which she attended alongside senior Sarah Buliszak Nov. 18-21 in Seattle.
Though yet to decide on a college, she plans to study political science and pursue a career as an intellectual property attorney. She is the daughter of Terry and Sandra O'Brien, and twin sister of Emerson House Student of the Month recipient Jessica.
Nathaniel Murray
A model student-athlete, Mr. Murray has maintained High Honor Roll status throughout high school and is a member of the National Honor Society and the Spanish National Honor Society (for which he serves as vice president). With a head start on his college coursework, he is currently enrolled in dual enrollment Accounting and English, as well as AP Biology, AP Psychology and AP Calculus.
An executive board member of the Freshmen Mentor Program, Mr. Murray is also a member of the GIVE Club, Class Representatives, and the Dean's Council. A captain of the Lions swimming team, he is a four-year Merrimack Valley Conference all-star as well as an honorable mention all-scholastic standout by The Boston Globe.
Mr. Murray's service extends beyond the CHS campus with his volunteer work at the Chelmsford Food Pantry and with National Honor Society efforts.
Mr. Murray plans to major in accounting in college with designs on becoming a forensic accountant. He is the son of Michael Murray and Alycia Howe.
Nhyira Nkansah
Currently enrolled in four AP courses – English, Government, Computer Science and Research – as well as Physics and Pre-Calculus, Ms. Nkansah is a fixture on the CHS High Honor Roll.
A decorated vocalist, Ms. Nkansah is a member of CHS's award-winning a cappella group The Crescendos, having led them to the Varsity Vocals International Championship of High School A Cappella reginal championship and national final in 2021, and a place in the regional round last spring.
Additionally, Ms. Nkansah serves as co-editor-in-chief for the CHS Yearbook as well as the media manager/photographer for the CHS football team. She is also the co-president of the Black Student Union and a member of Women in STEM and Freshmen Mentors.
A captain of the track and field team, Ms. Nkansah is a standout thrower and recently placed first in a dual meet against Lawrence and Billerica.
Undecided on a college, Ms. Nkansah plans to major in computer science. She is the daughter of Francis Nkansah and Rita Amoah.
Jash Bhut
An honor student each semester, Mr. Bhut is an inductee in three national honor societies including the NHS, English and World Languages societies while thriving in rigorous courses such as AP Government and Politics, AP Psychology, AP Calculus and AP Literature and Composition.
One of the most involved students at CHS, Mr. Bhut is the president and co-founder of the Chess Club and treasurer of the Class of 2023. He is also involved in the Student Council, Physics and Engineering Club, Investing Club, and LIME.
In November, Mr. Bhut helped spearhead a spinoff of the McCarthy Middle School's Project 300 holiday food drive which resulted in the collection of 1,553 pounds of non-perishable food items – enough to feed more than 1,200 people over the holidays. Outside of CHS, Mr. Bhut is an active volunteer at the BAPS Shri Swaminarayan Mandir temple in Lowell, serving as the lead coordinator of children's activities. He has also volunteered with blood drives and walkathons.
Undecided on a college, Mr. Bhut plans to study business and political science and pursue a career in corporate law. He is the son of Bhavesh and Vina Bhut.
Julia Williams
The consummate student-athlete, Ms. Williams has been named to the CHS Honor Roll in each of her terms and is a member of the National Honor Society, National English Honor Society, and the French National Honor Society. Her coursework includes AP Research, Honors Mock Trial, Calculus, Physics, Senior Odyssey, and American History Through Film.
A three-sport athlete, Ms. Williams is a member of the soccer team and was recently named captain of the Billerica-Chelmsford girls ice hockey co-op team. She is also a softball standout and, by graduation, will have earned 12 varsity letters during her tenure at CHS.
Moreover, Ms. Williams serves as Secretary for the Class of 2023 and is a member of Freshmen Mentors. She has also volunteered with clean-up efforts through her church, the Jimmy Fund and Department of Children and Families.
Ms. Williams plans to pursue communications and journalism with a concentration in sports. She is the daughter of Ken and Marie Williams.
About Chelmsford Public Schools
The Chelmsford Public School District provides all students with multiple pathways to optimize their own potential for academic excellence, leadership, and social and emotional wellness. The mission of the Chelmsford Public Schools is to educate, engage, prepare, and empower well-rounded and knowledgeable learners to PERSEVERE through challenges, demonstrate RESPECT and INTEGRITY in their words and actions, are DEDICATED to their community, and display EMPATHY as global citizens while discovering and pursuing their full potential. This PRIDE-driven culture enables all members of the school community to support the growth and development of students. For more information, please visit www.chelmsfordschools.org.