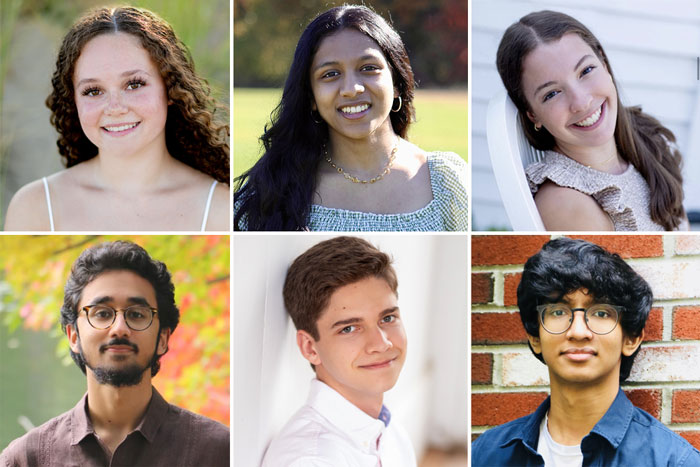 Chelmsford High School Announces November 2022 Students of the Month
in News
CHELMSFORD, MA (Nov. 21, 2022) – Six seniors were recently honored as Chelmsford High School named its Lions Pride/Rotary Student of the Month recipients for the month of November, announced CHS Principal Stephen Murray.
Seniors Ethan DeHaan and Shamoyl Vaid were named from Emerson House while Akhila Garre and Emma Taylor were honored from Hawthorne House, and Taylor Kiggins and Rishi Madivada from Whittier House.
Sponsored by the Chelmsford Rotary Club for more than 30 years, the Student of the Month program recognizes outstanding students from each of CHS's three academic houses – Emerson House, Hawthorne House, and Whittier House – for their achievements in and out of the classroom.
Ethan DeHaan
A member of both the National Honor Society and National English Honor Society, Mr. DeHaan thrives in challenging courses such as AP Psychology, AP Calculus and AP Environmental Science as well as Civics, Digital Music and American History Through Film, among others.
Mr. DeHaan also serves as the student speaker to the Chelmsford School Committee and board member of the CHS Mentors. He is also a member of Class Representatives, the Get Involved Volunteer Everywhere (GIVE) and Leaders In Motion Everywhere (LIME) clubs, as well as the volleyball and track and field teams.
An accomplished saxophonist, Mr. DeHaan plays in the CHS Jazz Band and is a section leader in the Chelmsford All-Town Wind Ensemble. Perhaps under the radar, he gives free alto saxophone lessons to a fifth-grade student and volunteers for the Household Goods Organization in Acton, Mass., refurbishing used furniture for low-income families.
Mr. DeHaan plans to study biology or genetics in college. He is the son of Wesley and Joy DeHaan.
Shamoyl Vaid
Enrolled in four AP courses, Mr. Vaid will have completed six AP classes and nine honors classes over the course of his CHS career, which has seen him earn induction into both the National Honor Society and National English Honor Society.
In the CHS community, Mr. Vaid is omnipresent in many clubs and organizations including GIVE and LIME, Class Representatives, CHS Mentors, the Physics and Engineering Club and Investing Club. A saxophonist, he is a member of the Jazz Band and volunteers with the Household Goods Organization and the Chelmsford Annual Turkey Drive. He also competes on CHS's indoor track and field teams.
Though undecided on a college, Mr. Vaid plans to study entrepreneurship. He is the son of Mustafa and Farida Vaid.
Akhila Garre
A High Honor Roll student each term, Ms. Garre has achieved several academic honors including induction in three national honor societies (NHS, English and Science) as well as AP Scholar and National Merit Scholarship Commended Student honors.
Ms. Garre is involved in many CHS activities and currently serves as the President of the Interact Club. Additionally, she is the Business Editor of the Yearbook, a member of GIVE, Women in Stem and the Physics and Engineering Club. She is also a two-sport athlete in tennis and cross country.
In June, Ms. Garre received honorable mention honors in the JFK Profile in Courage Essay Contest. Her essay titled "Moving Forward: Nikki Haley," described how the former South Carolina governor removed the Confederate flag from her state's State House grounds. The essay finished among the top 25 out of 2,474 submissions from U.S. high school students and was the only essay chosen among Massachusetts students.
Off campus, Ms. Garre volunteers for the Chelmsford Food Pantry and The Wish Project. She has also studied Russian mathematics, enjoys Indian dance, and participates in Balahari, which promotes Indian culture.
Ms. Garre plans to study computer science in college. She is the daughter of Sunil Garre and Renuka Devarasetty.
Emma Taylor
A member of four national honor societies – the NHS, English, Science and Spanish – Ms. Taylor has several academic plaudits to her credit, including the Worcester Polytechnic Institute Junior College Book Award (presented last spring to CHS juniors who exemplify leadership and scholarship). Additionally, she is a National Merit Scholarship Commended Student.
An active athlete involved in several clubs, Ms. Taylor is a four-year member and two-year captain of the volleyball team and helped lead it to a 10-9 record and an appearance in the MIAA State Tournament this fall. She is also an executive board member of the Freshman Mentor program and works with CHS Peer Mentors and the GIVE Club.
Though yet to declare a college choice, Ms. Taylor plans to study science in the medical field and hopes to pursue a career in physical therapy. She is the daughter of Paul and Elaine Taylor.
Taylor Kiggins
A member of the NHS, English and Spanish honor societies, Ms. Kiggins is enrolled in rigorous courses such as AP Spanish, AP Environmental Science, Quantitative Reasoning and Pre-Calculus, among others.
Ms. Kiggins is currently the president of the Freshman Mentor Executive Board after serving as a member for two years. Next semester, she will serve as a mentor in the Resiliency Program, helping CHS students who need extra assistance.
After school, Ms. Kiggins is an active dancer at Dance New England, teaching dance and working functions. She also works as an assistant at Alison Taylor Photography and as an instructor Nashoba Valley Ski Area, and volunteers with St. Mary's Church in Chelmsford and CHS's Trunk or Treat effort.
Ms. Kiggins plans to study marketing in college. She is the daughter of Matthew and Kristin Kiggins.
Rishi Madivada
Currently enrolled in four AP courses – including Calculus, Physics, Computer Science and Psychology –Mr. Madivada is a National Merit Scholarship Commended Student recipient. He is also excelling in Sociology, Senior Odyssey, and Forensic Science.
Outside of classes, Mr. Madivada is the captain of both the Science and Math teams and earned a fourth-place finish at the Harvard University Science Olympiad last year. He is also a member of the Physics and Engineering Club.
Mr. Madivada is just as active outside of CHS with his involvement in Balahari and raising funds for The Wish Project. He has also worked with a robotics team based out of MIT's Lincoln Laboratories.
Mr. Madivada plans to major in engineering in college and later pursue either microchip design or space exploration. He is the son of Suresh and Ramadevi Madivada.
About Chelmsford Public Schools
The Chelmsford Public School District provides all students with multiple pathways to optimize their own potential for academic excellence, leadership, and social and emotional wellness. The mission of the Chelmsford Public Schools is to educate, engage, prepare, and empower well-rounded and knowledgeable learners to PERSEVERE through challenges, demonstrate RESPECT and INTEGRITY in their words and actions, are DEDICATED to their community, and display EMPATHY as global citizens while discovering and pursuing their full potential. This PRIDE-driven culture enables all members of the school community to support the growth and development of students. For more information, please visit www.chelmsfordschools.org.