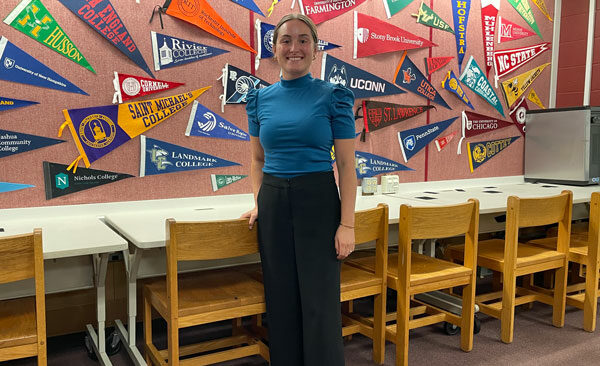 Alexandra Cunningham Named Career and College Readiness Facilitator at Chelmsford High School
in Newsletters
CHELMSFORD, MA (Oct. 4, 2021) – Alexandra Cunningham, a native of North Andover, Mass., was named the Career and College Readiness Facilitator at Chelmsford High School, CHS Principal Steve Murray and Superintendent Jay Lang announced recently.
Ms. Cunningham comes to Chelmsford after serving as the Young Adult Career Advisor at MassHire's Lowell office for two years, which followed a three-year stint at the Justice Resource Institute as a Competency Coordinator and Therapeutic Trainer.
"With this position, I feel I can reach students sooner in their lives to identify where their interests lie in terms of pursuing a career and/or a college," Ms. Cunningham said. "I'm excited to create a comfortable, welcoming space less like a classroom and more of a learning space."
Ms. Cunningham will oversee the Career and College Readiness Center at the High School and focus her efforts on developing the District's programs – such as Innovation Pathways, Dual Enrollment opportunities and student internships – and attracting business and industry partners to enhance those opportunities.
At MassHire, Ms. Cunningham executed numerous roles as the Young Adult Career Advisor, including the teaching and providing 50 young adults with disabilities the skills and training needed to join the workforce. In addition, she oversaw case management for more than 20 young parents and adults and provided them with pathways to high school diploma equivalency, job placement and transitional support.
At the Justice Resource Institute, Ms. Cunningham oversaw the competencies for 14 residents at the JRI's Little Heroes Home, a home for children overcoming trauma and mental health issues transitioning to permanent homes. Specifically, she oversaw the teaching of life skills and the performance of three residential counselors and earned certifications in Medication Administration Program (MAP) and Building Communities of Care and Restraint (BCC).
Along with achieving MAP and BCC certifications, Ms. Cunningham was accepted to and completed the one-year Futures Leadership program, which can only be achieved at the recommendation of JRI leadership.
She began her role at the JRI as a Therapeutic Trainer in which she provided in-home and community-based family therapy and managed a caseload of 10 children and families with mental health needs.
Ms. Cunningham earned her undergraduate degrees in both Criminal Justice and Psychology from the University of New Hampshire in 2016; and her master's degree in Forensic Psychology from Southern New Hampshire University in 2020 (where she maintained a 4.0 cumulative grade point average).
Ms. Cunningham resides in Methuen, Mass.
About Chelmsford Public Schools
The Chelmsford Public School District provides all students with multiple pathways to optimize their own potential for academic excellence, leadership, and social and emotional wellness. The mission of the Chelmsford Public Schools is to educate, engage, prepare, and empower well-rounded and knowledgeable learners to PERSEVERE through challenges, demonstrate RESPECT and INTEGRITY in their words and actions, are DEDICATED to their community, and display EMPATHY as global citizens while discovering and pursuing their full potential.  This PRIDE-driven culture enables all members of the school community to support the growth and development of students.  For more information, please visit www.chelmsfordschools.org.