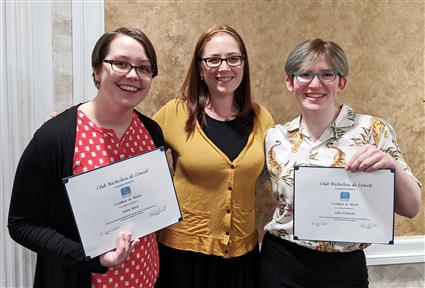 Chelmsford High School French Students Compete and Win at Club Richelieu Concours Oratoire
in Newsletters
FOR IMMEDIATE RELEASE:  March 4, 2020
 Chelmsford High School French Students Compete and Win at Club Richelieu Concours Oratoire
CHELMSFORD, MA – Chelmsford Public Schools is pleased to announce that Chelmsford High School has, once again, won the Club Richelieu Concours Oratoire.  Senior, Felix O'Hearne, won the first place prize last evening at the Princeton Station in Chelmsford.  Felix will be representing the Lowell Chapter of the Club Richelieu at the National contest which will take place on March 21, 2020, at the Hawthorne Hotel in Salem, MA.
Chelmsford High School has won both the regional and national competition twice in the past three years.  Chelmsford High School junior, Jenna Ward, also participated in the contest and was given an honorable mention.
The students competed against students from Westford, Leominster, and Lowell.  All shared speeches on the topic of Climate Change and how it will affect both American and francophone students.
The linguistic contest is sponsored by a long-standing group of French speakers, the Lowell Le Club Richelieu, who gather monthly to discuss any number of topics related to the French language, culture and society.  They are an international service organization whose goals are to promote the French language and culture and to support youth programs.  The fifty year old organization is composed of businessmen of French descent with philanthropic ideals and a vehement desire to keep the French language and culture alive.
Congratulations to Felix and Jenna for their effort in this impressive endeavor in representing Chelmsford High School in such a distinguished manner.
About Chelmsford Public Schools
The Chelmsford Public School District provides all students with multiple pathways to optimize their own potential for academic excellence, leadership, and social and emotional wellness. The mission of the Chelmsford Public Schools is to educate, engage, prepare, and empower well-rounded and knowledgeable learners to PERSEVERE through challenges, demonstrate RESPECT and INTEGRITY in their words and actions, are DEDICATED to their community, and display EMPATHY as global citizens while discovering and pursuing their full potential.  This PRIDE-driven culture enables all members of the school community to support the growth and development of students.  For more information, please visit http://chelmsfordschools.org/.