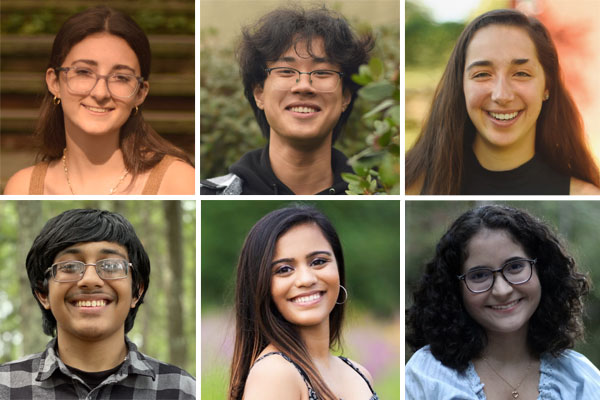 Chelmsford High School Announces September 2021 Students of the Month
in Newsletters
CHELMSFORD, MA (Nov. 10, 2021) – Six seniors were recently honored as Chelmsford High School named its Lions Pride/Rotary Student of the Month recipients for the month of September, announced CHS Principal Stephen Murray.
Seniors Elizabeth Silva and Larry Yang were named from the Hawthorne House while Ellen Angwin and Vishant Raajkumar were honored from the Emerson House, and Sachi Badola and Katherine Mason from the Whittier House.
Sponsored by the Chelmsford Rotary Club for more than 30 years, the Student of the Month program recognizes outstanding students from each of CHS's three academic houses – Emerson House, Hawthorne House, and Whittier House – for their achievements in and out of the classroom.
Elizabeth Silva
While balancing the rigors of five AP classes, Ms. Silva has given plenty back to the CHS community. Elected to her second term as President of the Student Council in July, she previously served as President during the pandemic-riddled 2020-21 academic year, as well as Secretary in 2019-20.
Simultaneously, Ms. Silva served as an executive at CHSTv for two years. She also helped organize the 2021 Student Leadership Conference and was the recipient of the Brandeis University Book Award last June (Tuesdays with Morrie).
Though undecided on a college, Ms. Silva hopes to major in leadership and business management.
Larry Yang
An AP Scholar with Distinction, Mr. Yang has taken a vested interest in STEM courses and competed with the Science Team in state competition last year, in which he placed sixth. While thriving in multiple AP courses, he is also a member of Leaders In Motion Everywhere (LIME) which facilitates leadership skills through community service efforts throughout the year.
Mr. Yang was the recipient of the Yale Club of Boston Book Award in June (City Unseen: New Visions of an Urban Planet). Undecided on a college, he plans to major in pre-med with hopes of pursuing neurosurgery or orthopedic surgery.
Sachi Badola
With a full slate of AP classes, Ms. Badola has been an exemplary student who belongs to three national honor societies – English, Science, and the National Honor Society – while earning AP Scholar with Distinction honors.
Throughout her tenure at CHS, Ms. Badola has been a fixture in the arts as well as a student leader. An award-winning singer, she is the co-president of The Crescendos, which advanced to the International Championship of High School A Cappella (ICHSA) Northeast Region championship. In November 2020, she received the 2020 TAMY Award for Best Musical Solo from Mount Wachusett Community College's Theatre at the Mount. She is also a member of the CHS Theatre Guild and has the role of the 'Leading Player' in the fall 2021 musical Pippin (Nov. 18-20).
Equally as impressive, Ms. Badola founded the TED Club, and launched a podcast with a variety of guests to help her fellow students discover different ways to develop a growth mindset. She was also the CHS recipient of the WPI Book Award (Women in Science: 50 Fearless Pioneers who Changed the World).
Ellen Angwin
A member of three national honor societies, Ms. Angwin is currently enrolled in four AP courses including Calculus, Chemistry, Literature and Composition, and Psychology. Along with the National Honor Society, she has also earned induction into the National English Honor Society and the National French Honor Society.
Despite the demands of her coursework, she is in her fourth year with Class Reps, currently serving as treasurer, and is in her second year in the CHS Mentor program. Previously, she had been a member of the American Sign Language (ASL) Club and Civic Action Club. In June, she was honored with the Harvard Club of Boston Book Award (The Harvard Book: Selections from Three Centuries).
A two-sport athlete, Ms. Angwin will begin her fourth year on the varsity basketball team in a few weeks. She is also a member of the soccer team, which capped the season at 9-5-5 and advanced to the MIAA State Tournament. Outside of CHS, she plays basketball at the AAU level while coaching and officiating in the Chelmsford Youth Basketball League.
Ms. Angwin plans to study Engineering in college – while playing basketball – with the possibility of attending law school after.
Vishant Raajkumar
Currently enrolled in six AP courses – Physics, Statistics, Government, Research, Literature and Spanish – Mr. Raajkumar has earned inductions in three national honor societies: Spanish, English and the NHS. He was also named an AP Scholar with Distinction.
Mr. Raajkumar transitions his stellar classwork into his extracurricular activity, competing with CHS's Speech and Debate, Math and Robotics teams (he was a finalist at the HackNEHS Hackathon in April). A member of the Stormgears FRC Robotics organization, he also volunteers for the Chelmsford Public Library.
In June, Mr. Raajkumar was named the recipient of the Dartmouth College Book Award (The Poetry of Robert Frost). He plans to study Computer Science in college and pursue a career as a software developer.
Katherine Mason
Ms. Mason has thrived within the challenges of her AP class coursework, earning High Honor Roll status all three years while taking AP classes such as English Literature and Language, Spanish and AP Seminar. She is a member of four honor societies, including English, Spanish, Tri-M and NHS.
An accomplished clarinetist, Ms. Mason has served as the drum major (band leader) with the CHS Marching Band for the last two years; a three-year member of the CHS Pit Orchestra; and five-year member of the Chelmsford All-Town Wind Ensemble.
Ms. Mason is also a student board member of LIME, which recently hosted its second annual Drive-Through Trick or Treating and raised more than $1,000 in donations for The Paul Center for Learning and Recreation. She is also a board member of CHS's Melting Pot club and volunteers for the Chelmsford Public Library and the Chelmsford Friends of Music.
In June, she was presented the Smith College Book Award (A Woman's Education). Though undecided on a college, Ms. Mason plans to study either English, journalism, or history.
About Chelmsford Public Schools
The Chelmsford Public School District provides all students with multiple pathways to optimize their own potential for academic excellence, leadership, and social and emotional wellness. The mission of the Chelmsford Public Schools is to educate, engage, prepare, and empower well-rounded and knowledgeable learners to PERSEVERE through challenges, demonstrate RESPECT and INTEGRITY in their words and actions, are DEDICATED to their community, and display EMPATHY as global citizens while discovering and pursuing their full potential.  This PRIDE-driven culture enables all members of the school community to support the growth and development of students.  For more information, please visit www.chelmsfordschools.org.