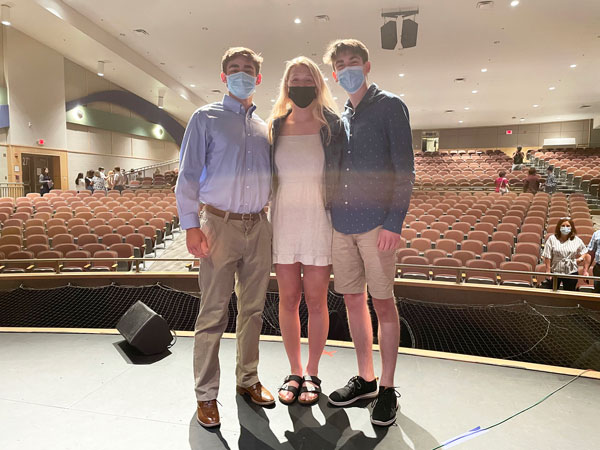 CHS Announces Class of 2021 Award Recipients
in Newsletters
Mitchell, Krueger and Timmins earn Student of the Year honors
WATCH: Full ceremony on Chelmsford TV
CHELMSFORD, MA (June 30, 2021) – Seniors Peter Mitchell was named the Student of the Year for Hawthorne House while seniors Kate Krueger and Josh Timmins were named students of the year for the Emerson and Whittier houses as Chelmsford High School announced its Class of 2021 award recipients on Wednesday, June 2, at the Carl J. Rondina Performing Arts Center.
Mr. Mitchell, who served as Senior Class President and will enter the U.S. Naval Academy in the fall, earned four awards on the day while Mr. Timmins was among 14 students who received at least three honors. In addition to winning Student of the Year honors, Mr. Mitchell was presented with the U.S. Naval Academy Appointment from Commander David Grim. He was also the recipient of the Class Representatives Above and Beyond Award as well as the Prudential Spirit of Community Certificate of Merit.
Mr. Timmins received the National School Choral Award roughly one month after he led The Thursdays to the International Championship of High School A Cappella (ICHSA) national final. He was also the recipient of the English Department Award and recently helped lead the CHS volleyball team (11-1) to the Merrimack Valley Conference title and the MIAA North Region Quarterfinal round.
In addition to earning Emerson House Student of the Year honors, Ms. Krueger recently helped the CHS lacrosse team (17-0) to the MIAA Division I North Region Championship and a bid to the MIAA Tournament semifinal round.
Other students who earned three honors at the ceremony included valedictorian Michelle Ly, Drema Uttecht, Kaili Lamb and Emily Arpino, along with Mary Hamilton, Emma Keohane and Parnika Koppana.
Aidan Hennessey received four honors while Salutatorian Connor Mitchell and Ethan Meltzer received three apiece.
Class of 2021 Awards – June 2, 2021 — Carl J. Rondina Performing Arts Center
Students of the Year
Kate Krueger (Emerson House)
Peter Mitchell (Hawthorne House)
Josh Timmins (Whittier House)
Gold Medal Scholars (Recognition of the top scholars of the Class of 2021)
James Barrett – 5th in class
Praneeth Abburi – 4th in class
Ethan Meltzer – 3rd in class
Connor Mitchell – Salutatorian
Michelle Ly – Valedictorian
U.S. Naval Academy Appointment
2021 Class Representatives Above and Beyond Awards
Jackie Rigazio
Peter Mitchell
LIME (Leaders In Motion Everywhere) Above and Beyond Award
Advanced Placement Diploma Candidates
Samuel Rogers
Paul Tucker
Drema Uttecht
Rebello Scholarship
Art Achievement Awards
Digital Art: Drema Uttecht
Studio Art: Amanda Waters
Emerson House Students of the Month
September: Srija Chereddy & Ethan Meltzer
October: Kate Krueger & James Mieszczanski
November: Jenna Ward & James Barrett
December: Zoe Adoniou & Michael Schwamb
January: Skyla Garrigan & Tarmo Tari
February: Chelsea Moody & Adam Fielding
March: Rachel LaLmiere & Logan Bruce
April: Sofia D'Agostino & Yash Sahoo
May: Kyla Constantino & William Ward
June: Lily Hoyt & Cameron Petullo
Child Development/Community Education Award
(For excellence in the Early Childhood program)
Louis Armstrong Jazz Award
John Phillip Sousa Award
Director's Award for Band
Director's Award for Chorus
National School Choral Awards
Director's Award for Orchestra
National School Orchestra Award
Hawthorn House Students of the Month
September: Michelle Ly & Connor Mitchell
October: Allison Dorsey & Peter Mitchell
November: Gayathri Mantha & Aidan Hennessey
December: Emma Keohane &George Haywood
January: Emma Walsh & Joshua Jordan
February: Emily Arpino & Nicholas Bottomley
March: Brynn Murray & Joseph Sturzo
April: Mary Hamilton & Sammy Kettani
May: Katelyn Fox & John Nickerson
June: McKayla Hardy & Daniel Sousa
Commonwealth Award for Exemplary Community Service
(Awarded to a high school junior or senior who has distinguished his/herself based on community service activities)
American Sign Language (ASL) Above and Beyond Awards
Kaili Lamb
Mary Hamilton
Distributive Education Clubs of America (DECA) Above and Beyond Award
Prudential Spirit of Community Awards Program
(Those who demonstrate outstanding commitment to serving our community and are hereby recognized as the top student volunteers at CHS)
Emerson House
Zoe Adoniou
Adam Fielding
Chelsea Moody
Jenna Ward
Michael Schwamb
Hawthorne House
Emily Arpino
Mary Hamilton
Peter Mitchell
Michelle Ly
Emma Walsh
Whittier House
Kathleen Dolan
Gabriella O'Connor Carinao
Parnika Koppana
Jenna LaRochelle
Hope Zouzas
Give Club Above and Beyond Awards
Society of Women Engineers Boston- Certificates of Merit
Honors: Drema Uttecht
High Honors: Emma Keohane
Highest Honors: Krish Bhut
Michael Tate Honorary Awards for Science Excellence
Connor Mitchell
Alisha Peeriz
Ralph Sherwood Honorary Science Award
Interact Club Above and Beyond Award
Parnika Koppana
William Casaletto
Massachusetts Foreign Language Association Awards
(Conferred upon the student who has demonstrated the highest achievement in the most advanced course of each language taught)
ASL: Aidan Henessey
French: Niyati Shroff
Spanish: Cassandra Larkin
Seal of Biliteracy Awards
(Recognizing seniors who have demonstrated proficiency in English and a world language)
Sachi Joshi (Spanish)
Kaili Lamb (Spanish)
Cassandra Larkin (Spanish)
Diya Panchal (Hindi)
Nicolle Reyes (Spanish)
Anirudh Singh (Hindi)
Youssef Soliman (French, Arabic)
Seal of Biliteracy with Distinction Awards
Tarmo Tari (Estonian)
Giovana Vieira (Portuguese)
Language Opportunity Coalition Biliteracy Achievement and Attainment Awards
Aaliyah Scott (Spanish)
Alexander Haverty (Spanish)
Ameer Haidar (French)
Amelia Carol-Ann Hughes (French)
Andrew Kochhar (French)
Ethan Meltzer (French)
Gabriel Stafford (French)
Jenna Ward (French)
Julia Elizabeth Bates (French)
Leticia Toledo (Portuguese)
Michael Schwamb (French)
Parnika Koppana (French, Telugu)
Sachi Joshi (Hindi)
Sana Patel (Spanish)
Serena Pan (Mandarin)
Shreyas Chaturvedula (Telugu)
Whittier House Students of the Month
September: Praneeth Abburi & Krish Bhut
October: Haley Ruccio & Josh Timmins
November: Jackie Rigazio & Luke Abraham
December: Julianne Clark & Cole Schaefer
January: Drema Uttecht & Sudeep Gubbala
February: Kathleen Dolan & Liam McCafferty
March: Jennifer Coleman & Shreyas Chaturvedula
April: Jenna LaRochelle & Zachary LaRochelle
May: Joseph Connelly & Noah Luke
June: Kathryn Slattery & Liam Wagner
Theatre Guild Above and Beyond Awards
Skyla Garrigan
Pierce Magnant
Musical Theatre Award
Andrew Pasquale Honorary Math Awards
Ethan Meltzer
Srija Chereddy
Massachusetts Secondary School Administrators Association Student Achievement Award
(In recognition of outstanding contributions to the school)
Project Lead the Way Above and Beyond Awards
Benjamin Larsen
Sachi Joshi
Robotics Above and Beyond Award
UMass Lowell Business School Award
Lions Locker School Store Award
CHSTv Above and Beyond Awards
Chelmsford Telemedia Service Awards
Jillian Brennan-Barbeau
Eric Correa
Kenneth Goodwin
Emma Hebert
Kristina Reynolds
Haley Ruccio
Lindsey Snider
Ryan Saliba
Emma Walsh
Josh Walsh
Shane Williams
Technology Trouble Shooting Above and Beyond Awards
Lead Like a Girl Club Above and Beyond Award
Best Buddies Club Above and Beyond Award
Math Team Above and Beyond Awards
Aidan Hennessey
Rudra Sett
Andrew Kochlar
Yearbook Above and Beyond Awards
Mary Hamilton
Emma Keohane
Mock Trial Above and Beyond Awards
Laura Latham
Lindsey Snider
PRIDE Awards
(Students who have exemplified one or more of the attributes of our PRIDE values: Perseverance, Respect, Integrity, Dedication and Empathy)
Luke Abraham
Morgan Boudreau
Yabdiel Gonzalez Cruz
Kate Doherty
Johnathan Durham
Avi Erickson
Jack Gallo
Sudeep Gubbala
Ameer Haidar
Luke Harrison
Madison Harper
George Haywood
Benjamin Helmar
Jane Irene Jasmin
Shannon Kempner
Evan Kinney
Laura Latham
Aidan Maguire
Taeshawn McKinney
Terry McKinney
Sean Mescall
Shea O'Leary
Kate Paquette
Kaitlyn Pawl
Nicolle Reyes
Bryan Smith
Lanny Tseng
Will Ward
Karina Zafar
Lion Service Awards
Katelyn Fox
Emma Keohane
Allison Dorsey
Gayathri Mantha
Abigail Przybylowicz
National Merit Scholarship Program
Praneeth Abburi
Aidan Hennessey
Connor Mitchell
Rudra Sett
CHS Department Awards
Meghan Goode (Business Education)
Emma Walsh (CHSTv)
Karina Zafar (Computer Science
Josh Timmins (English)
Taeshawn McKinney (Health Education)
Aidan Hennessey (Mathematics)
Ethan Meltzer (music)
Adam Fielding (Physical Education)
Lanny Tseng (Science)
James Barrett (Social Studies)
Shannon Kempner (Technology-Architecture)
Zane Meikle (Technology-Engineering)
Hannah Nettikadan (Visual Art)
Anna Adinolfi (World Language)
About Chelmsford Public Schools
The Chelmsford Public School District provides all students with multiple pathways to optimize their own potential for academic excellence, leadership, and social and emotional wellness. The mission of the Chelmsford Public Schools is to educate, engage, prepare, and empower well-rounded and knowledgeable learners to PERSEVERE through challenges, demonstrate RESPECT and INTEGRITY in their words and actions, are DEDICATED to their community, and display EMPATHY as global citizens while discovering and pursuing their full potential.  This PRIDE-driven culture enables all members of the school community to support the growth and development of students.  For more information, please visit www.chelmsford.k12.ma.us.