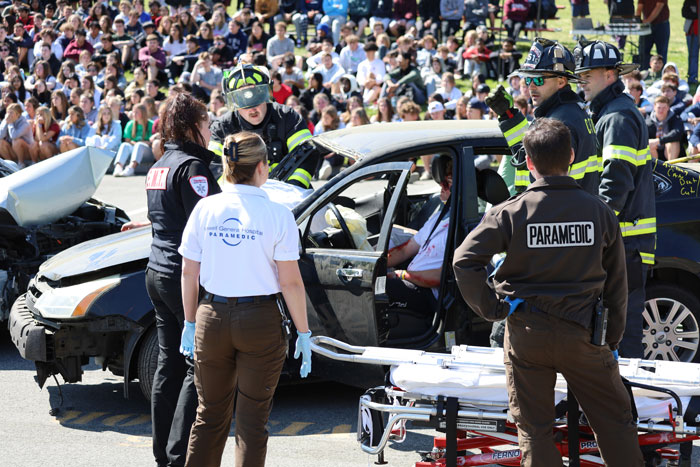 Chelmsford High School's Mock Car Crash Emphasizes Brutality and Consequences of Driving While Impaired
in Newsletters
School counselors also highlight mental health, available resources
CHELMSFORD, MA (May 18, 2023) – As the summer approaches, so does the urge to celebrate with graduation parties, end-of-season banquets, and barbecues.
The junior and senior classes at Chelmsford High School, however, were offered impactful words of caution and graphic images at its 2023 Mock Car Crash on Thursday morning to remind them of the perils and consequences of driving while impaired and/or distracted.
Students listened to several speakers including CHS Principal Steve Murray (CHS Class of 1988) and Joshua Blagg ('91), Dean of Hawthorne House, as well as school counselors Daniel McGrath, Dan Rosa, and Christine Lima, each of whom helped organize the event.
Mr. McGrath told the story of losing his father in a weather-related automobile accident on Cape Cod in 2012 while Mr. Rosa, who will retire next month, told how his son survived a car crash his senior year at CHS. Both emphasized the difference between 'accident' and 'negligence,' and how a choice, however small, can have a massive impact.
CHS students were also reminded of the importance of mental health and the wealth of resources available.
School Resource Officer Rebecca Tyros, the youngest of eight children raised by a single mother, discussed the influences who inspired her to become a police officer. Social studies educator Kathryn Sullivan and school counselor Christine Lima implored students to understand their worth to family, friends, and CHS educators.
Several faculty and staff members wore 'Live Smart' t-shirts to accentuate Thursday's message. The mangled Ford Focus used in the Mock Car Crash was placed on North Road in front of McCarthy Middle School to serve as a reminder of the consequences of drunk and distracted driving.
The Mock Car Crash planning committee includes Ms. Lima and Mr. McGrath as well as Dean Blagg, Emerson House Dean Erin MacNeil, Whittier House Dean John MacIsaac, and Principal Murray; PreK-12 Health/Physical Education/Family and Consumer Sciences Coordinator Katie Simes and health educators Julie Gonsalves and Matt Dibble; and media educator Tom Peterson.
Officer Matthew Fernald and Officer Shawn Brady also helped organize the event, and Chelmsford Police School Resource Officers and comfort dog Ozzie were also on scene to help support students.
The Mock Car Crash, which returned in 2022 following a two-year absence due to the Covid-19 outbreak, involved the Chelmsford Police and Fire departments, Dolan Funeral Home as well as PrideStar EMS, each of whom generously donated their time.
"Our goal is to educate students as the to the danger of both distracted driving and driving under the influence of alcohol or drugs," said Deputy Chief Colin Spence.
About Chelmsford Public Schools
The Chelmsford Public School District provides all students with multiple pathways to optimize their own potential for academic excellence, leadership, and social and emotional wellness. The mission of the Chelmsford Public Schools is to educate, engage, prepare, and empower well-rounded and knowledgeable learners to PERSEVERE through challenges, demonstrate RESPECT and INTEGRITY in their words and actions, are DEDICATED to their community, and display EMPATHY as global citizens while discovering and pursuing their full potential.  This PRIDE-driven culture enables all members of the school community to support the growth and development of students.  For more information, please visit www.chelmsfordschools.org.