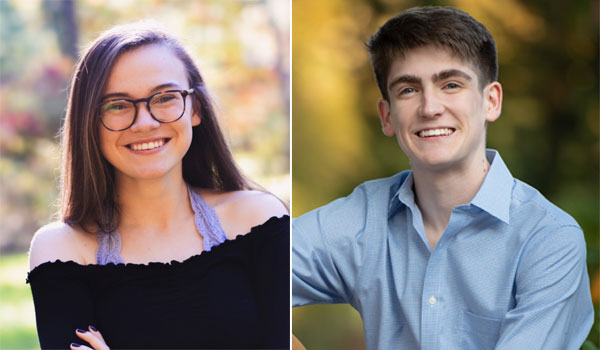 CHS Seniors Dorsey, Timmins Earn Honors for 'The Last Person on Earth' at METG 2021 Festival
in Newsletters
Dorsey cited for Excellence in Writing; Timmins Excellence in Acting; Eight cast members cited for Excellence in Ensemble Work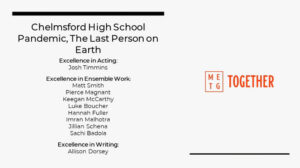 CHELMSFORD, MA (July 6, 2021) – Senior Allison Dorsey was recognized for Excellence in Writing while senior Josh Timmins was cited for Excellence in Acting as the Massachusetts Educational Theater Guild (METG) announced its Together Virtual Festival 2021 All-Star Company Wednesday.
Ms. Dorsey and Mr. Timmins were honored for their work on the play, The Last Person on Earth, which was one of two plays performed at the Carl J. Rondina Performing Arts Center March 13-15 – the first stage productions at CHS since March of 2020. The Last Person on Earth, written by Ms. Dorsey, is a dark comedy depicting a group of strangers who believe they are the last remaining humans to walk the Earth, but are encouraged to search for others.
In addition to writing the play, Ms. Dorsey also played the role of Audrey, a kind-hearted introvert, while Mr. Timmins played the role of the intellectual Noah, who is always looking to impress.
Additionally, eight members of the ensemble were presented with Excellence in Ensemble honors, including seniors Hannah Fuller, Simran Malhotra and Pierce Magnant; juniors Sachi Badola, Keegan McCarthy, Jillian Schena and Matt Smith; and freshman Luke Boucher.
"It's such an honor to be recognized for the hard work you put into doing something," Ms. Dorsey said. "It really felt more special because it signified for me that we were through (the Covid-19 pandemic). It's been really hard, and coming out of it, saying I did something really positive, doing something I love, it really made my heart so happy. And to see all my friends honored too, I was so happy."
The Excellence in Acting honor came as a surprise for Mr. Timmins, who joined the CHS Theatre Guild as a junior. "Compared to all of my other activities, theater is the one I least expected to receive an award in because I haven't been involved in it for as long as a cappella or volleyball," he said. "So, it certainly came as a welcomed surprise to be recognized for it.
"I'm so thankful to have been able to perform in one last show after such a drought," added Mr. Timmins, who was Merrimack Valley Conference all-star in volleyball. "Everybody had an enthusiastic approach, so there was an awesome camaraderie that developed among the cast and crew.  Even though it would have been easy to treat our last show like a casual send-off, everybody really put their heart into it, and I know I personally grew as an actor."
The Last Person on Earth was performed May 18, 19 and 20 at the PAC (along with another original production, The King is Dead) and was also staged outdoors at the Westford Academy Courtyard. CHS Theatre Director Lauren Cochran arranged for an adjudicator from the METG to view the play and offer critique, hence its entry into the Festival.
"We got some really great positive feedback which always helps with people's confidence," said Ms. Dorsey. "But they also gave us feedback to improve on the technical side and the acting side."
Ms. Dorsey said the return to the stage after nearly 15 months away was cathartic. "It was just so amazing to go on stage," she said. "It is amazing in itself to do what I love to do, but to be surrounded by people who love what they do, it really felt like a community up there. It was so, so incredible."
The honor is the latest of the academic year for Ms. Dorsey and Mr. Timmins, both of whom helped lead The Thursdays to the International Championship of High School A Cappella (ICHSA) national final. Their video performance of 'Evergreen' won the ICHSA Northeast Region title and catapulted the group to the final round along with seven other a cappellas across the country.
While Covid-19 put live performances on hiatus, both Ms. Dorsey and Mr. Timmins, along with most of the cast, played roles in the student-run feature-length film, The Mystery at Pendleton Manor, which was filmed over the course of the school year and screened June 10 and 11 at the PAC.
Live performances are expected to resume at Chelmsford Public Schools for the 2021-22 academic year with a preliminary schedule to be announced later this month.
About Chelmsford Public Schools
The Chelmsford Public School District provides all students with multiple pathways to optimize their own potential for academic excellence, leadership, and social and emotional wellness. The mission of the Chelmsford Public Schools is to educate, engage, prepare, and empower well-rounded and knowledgeable learners to PERSEVERE through challenges, demonstrate RESPECT and INTEGRITY in their words and actions, are DEDICATED to their community, and display EMPATHY as global citizens while discovering and pursuing their full potential.  This PRIDE-driven culture enables all members of the school community to support the growth and development of students.  For more information, please visit www.chelmsford.k12.ma.us.