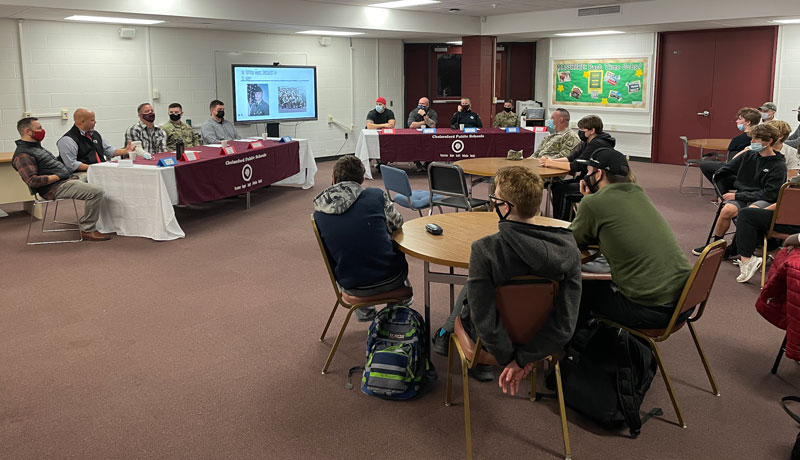 CHS's Military History Runs Deep at Career and College Readiness Center Veterans Panel
in Newsletters
CHS Alumni return to share military experiences with CHS juniors, seniors
CHELMSFORD, MA (Nov. 24, 2021) – There was a common theme among the 10 military veterans and active service members who appeared at the Chelmsford High School Career and College Readiness Center Thursday morning:
'I wouldn't be where I am at today if I didn't enter the military.'
While the Center is adorned with college banners and regularly hosts admissions officials representing colleges throughout the Northeast, it was all about what the military had to offer last Thursday morning, with several active officers clad in fatigues.
The idea for such spawned from CHS junior Alexander Wong, who approached John MacIsaac, Dean of Whittier House, about speaking with military members about post-graduate opportunities. Mr. MacIsaac steered Mr. Wong to Career and College Readiness Center Facilitator Alexandra Cunningham, who ran with the idea.
"Alex popped in and asked if we could set up something for pride block, where veterans could come in and speak," she explained. "He wanted to hear the experiences of those who had served."
Less than three weeks later, it came to fruition. Ms. Cunningham put together the panel of 10 active and retired veterans representing all five branches of the U.S. Military. She didn't have to look far as the panel was full of Chelmsford Public Schools influence:
John Moses: SFC, retired, U.S. Army; Current Chelmsford School Board member
Jeff Parks '91: Specialist E-4, U.S. Army; Parker Middle School Principal
Michael W. Petrilli: 1SG, retired, U.S. Army; Assistant Football Coach at CHS
Richard Watson '07: SGT, U.S. Army National Guard
Gregory Ryan: LCPL, U.S. Marine Corps
Dan Marino: U.S. Marine Corps
Robert Asselin: Chief Petty Officer, Fleet Marine Force, U.S. Navy; Harrington Elementary School Principal
Rebecca Tyros '92: Senior Airmen, U.S. Air Force; Detective, Chelmsford Police Department; CHS Resource Officer
Emma Britton: SRA, U.S. Air Force
Marcy Mason: MST3, U.S. Coast Guard; Secretary of CHS Hawthorne House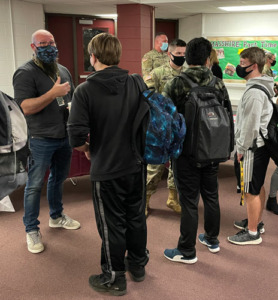 "I'm figuring it out, like a lot of kids my age," said Mr. Wong. "I'm trying to keep all options open. I'm not sure what branch I would join, but if I were to join, I would be interested in being a medic. I thought that the panel was very informative and insightful for our students. It is nice to be able to have these conversations before such a big decision."
The panel drew nearly 35 juniors and seniors who listened intently to the vast experiences of each veteran, about half of whom earned their college degrees through the G.I. Bill.
"If this is the direction they're choosing to go, they need to make sure they choose the path that's right for them," said Dr. Parks, who earned his degree at Bridgewater State College while serving as a reserve in the U.S. National Guard. "It was very encouraging to see so many students take interest."
Mr. Asselin, the Principal of the Harrington Elementary School since 2018, spoke of his deployment to Al-Basra, Iraq in 1990 to serve in operations Desert Shield and Desert Storm. He was moved at how many students attended, spending nearly an hour speaking with students individually afterward about his experience.
"It made me proud. They asked me what it was like, how to prepare for it and told me what their interests were," he said. "I told them it doesn't matter if you can do 500 pushups or run a two-minute mile. If you're not mentally strong, you're not going to succeed. You always have to push through each day."
Ms. Cunningham, who began her role at CHS in September, expects to build upon Thursday's panel and turn it into an annual session. "It was a great experience for everyone, including the veterans," she said.
About Chelmsford Public Schools
The Chelmsford Public School District provides all students with multiple pathways to optimize their own potential for academic excellence, leadership, and social and emotional wellness. The mission of the Chelmsford Public Schools is to educate, engage, prepare, and empower well-rounded and knowledgeable learners to PERSEVERE through challenges, demonstrate RESPECT and INTEGRITY in their words and actions, are DEDICATED to their community, and display EMPATHY as global citizens while discovering and pursuing their full potential.  This PRIDE-driven culture enables all members of the school community to support the growth and development of students.  For more information, please visit www.chelmsfordschools.org.