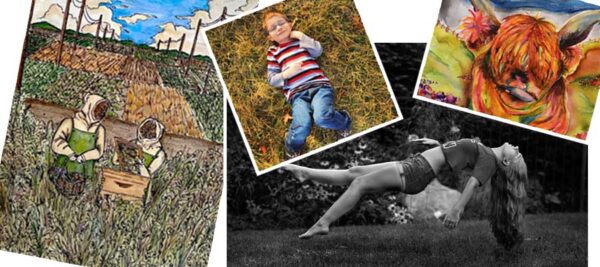 Four CHS Artists Selected to Showcase in MAEA 'Emerging Artists' Exhibit
in Newsletters
CHS student-artists lauded for photography, painting and drawing
CHELMSFORD, MA (Mar. 2, 2021) – Four Chelmsford High School students – seniors Liam McCafferty and Hannah Nettikadan, junior Avery Marr and freshman Audrey Rice – were selected to showcase their artwork at the Massachusetts Art Education Association (MAEA) Amazing Emerging Artists Recognitions virtual exhibit, which opened Monday, Mar. 1.
The works of each were selected by a blind jury and will be featured on the MAEA website beginning Monday, Mar. 1. Due to the Covid-19 pandemic, the 2021 exhibit will be held online only.
Ms. Marr, a student of Ms. Madalena Alves, and Mr. McCafferty, a student of Ms. Allison Gover, were both honored in the Photography category; Ms. Marr for her photo titled Winter Sun, and Mr. McCafferty for his photograph called Essence of the Surreal. Ms. Nettikadan, also a student of Ms. Gover, was cited in the Drawing category with her print titled Lord of the Bees. Ms. Rice, a student of Ms. Alves, was honored in the category of Painting with her print, Nutmeg.
"Avery's work captured a moment of happiness," said Ms. Alves. "Her photograph expresses the sheer joy of laying out in the grass and enjoying the winter sun shining down it's warmth. Avery's style of art is detail oriented and her time and effort into her art are seen in each final piece. She works hard to advance her skills and take on new experiences.
"Audrey's work is full of color and a variety of watercolor techniques," Ms. Alves added. "She loves to experiment with the medium and you can see that through some wet-on-wet technique and overlapping layers of color. Audrey puts in the effort, time, and commitment when creating her art and is always open to learning something new to better her skills."
Ms. Gover equally lauded the work of her students, Mr. McCafferty and Ms. Nettikadan.
"Liam is an exemplary student in the Art program and has created stunning work through mastering photography skills as well as image editing," she said. "Liam's hobbies overlap with academics as he enjoys photographing portraits in his free time.
"Hannah's drawings and paintings show a high level of not only technical skill, but also of imaginative, thought-provoking content," Ms. Gover added. "She is a creative and dedicated student artist."
The MAEA exhibit is being held in conjunction with Youth Art Month in Massachusetts and celebrates the value of art education and support for quality art programs in Bay State schools.
Photo caption: From left, 'Lord of the Bees,' by Hannah Nettikadan; 'Winter Sun' by junior Avery Marr; 'Nutmeg,' by freshman Audrey Rice; and 'Essence of the Surreal,' by senior Liam McCafferty.
About Chelmsford Public Schools
The Chelmsford Public School District provides all students with multiple pathways to optimize their own potential for academic excellence, leadership, and social and emotional wellness. The mission of the Chelmsford Public Schools is to educate, engage, prepare, and empower well-rounded and knowledgeable learners to PERSEVERE through challenges, demonstrate RESPECT and INTEGRITY in their words and actions, are DEDICATED to their community, and display EMPATHY as global citizens while discovering and pursuing their full potential.  This PRIDE-driven culture enables all members of the school community to support the growth and development of students.  For more information, please visit www.chelmsford.k12.ma.us.