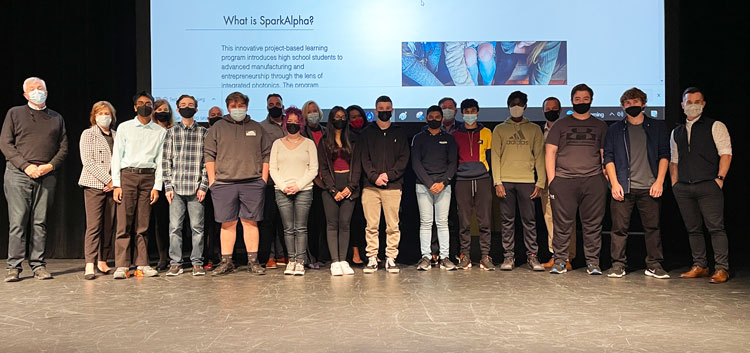 SparkAlpha Final Pitch Program Teaches CHS Students Conceptualizing, Art of the Pitch and Pressure
in Newsletters
CHELMSFORD, MA (Oct. 29, 2021) – When each of the four teams of Chelmsford High School students were finished pitching their innovations, the panel of five judges was courteous but direct with their questions and critiques for good reason.
It is all preparation for when these students enter the working world in a few short years, where they will face similar questioning in the form of job interviews and sales pitches.
On Thursday morning, four teams of students in Tom Sousa's Introduction to Entrepreneurship class took the stage at the Performing Arts Center to pitch products – 'Shark Tank' style – after spending the last five weeks conceptualizing and developing business plans. Each of their products was centered around the use of photonics – the science of light generation, control and detection.
"They know they're going to get feedback," said Mr. Sousa. "Some kids do get tensed up and some look at it that they have to do a little better the next time, which is where we want them to be."
The project, part of a program called SparkAlpha, is the result of a partnership with Waltham-based Spark Photonics, whose Cofounder and CEO Dr. Kevin McComber (MIT '05, PhD '11), and Project Manager Bob Vigneau (Merrimack '03, Salem State M.Ed '11), brought SparkAlpha to CHS to introduce students to the fields of integrated photonics and entrepreneurship.
"SparkAlpha introduces students to manufacturing, entrepreneurship and integrated photonics," Dr. McComber said. "From there, the students identify a problem in the world and use integrated photonics to address that problem."
After practicing and refining their pitches in class two weeks prior, the four teams convened at the PAC Thursday morning to make their final proposals in front of a panel that included Dr. Jay Lang, Superintendent of Chelmsford Schools; Steve Murray, Principal at CHS; Steve Willis, Cofounder of Wellfleet Communications; Judy Hogan, Dean of Business and Education at Middlesex Community College; and Dr. Ellen Grondine, Dean of Education and K-16 Partnerships at MCC.
Students were asked to describe their product in fine detail: the problem it addresses and solves, how it operates, marketing strategy and target audience, and cost justification.
The four teams' products included:
Sports Sleeve: A wearable sleeve that detects cramping and related injuries before they happen, then transmits a warning to an app, ideally monitored by a nearby athletic trainer or physiologist professional (presented by seniors Patrick Kavanagh and Gaurang Karpe and sophomore Dev Patel).
Water Watcher: A sensory-based device and system that not only detects chemicals in residential drinking water, but automatically purifies accordingly (presented by senior Ganesh Danke, sophomore James Harvey and freshman Bailey Poirier).
Ares: A device designed to reduce the response time of first responders. It is placed over doorways in schools and transmits signals to first responders, teachers and students in the event of emergency situations such as fires or active shooters (presented by seniors Josie O'Hare and Thomas Pratt and sophomore Rahi Shah).
HydroPure: A device which uses photonics to sense and eliminate harmful bacteria in the drinking water of elementary and secondary schools that lack optimal filtration systems (presented by senior Stephen Melanson, junior Joel Muthuraman and sophomore Victoria Grieco).
"It combined the technological aspect and the business aspect," said Mr. Danke. "I'm interested in both business and computer science and I hope to create a product that will help people in a similar way (to Water Watcher)."
Ms. O'Hare said the SparkAlpha program brought to light the rigors behind starting a company, something she sees in her future. "It's definitely in the cards for me," she said. "I'm in between about what I want to do the rest of my life, but I think I'm more suited to starting my own business rather than joining a large corporation. This has really helped me. It's a wonderful opportunity for anyone looking to start their own business."
SparkAlpha works closely with Middlesex Community College with which CHS partners for dual enrollment courses. When Dr. McComber inquired to MCC officials about partnering with a nearby high school, they recommended CHS.
"Students should gain three primary benefits from this program," said Dr. McComber. "First, they get exposed to integrated photonics, a cutting-edge technology, and more broadly to advanced manufacturing as a rewarding career opportunity.
"Second, they work through the entrepreneurial process and gain an appreciation for the method used to create and sell products that address real-world problems," he added. "And third, they learn about the education and career pathways available to them in advanced manufacturing through SparkAlpha's college and industry partners Middlesex Community College and Mycronic, respectively."
As CHS is the first high school with which SparkAlpha has worked, the partnership is drawing glowing reviews. "It's been so much better than I anticipated," Mr. Sousa said. "Kevin and Bob are so well-structured the way they bring it in. Bob comes from a teaching background. The first thing they worked on was career readiness, the ability to talk and to answer questions. They have been great to work with and they've done a great job working with the kids.
"A lot of these kids didn't know each other," Mr. Sousa added. "It was interesting to watch them come together."
About Chelmsford Public Schools
The Chelmsford Public School District provides all students with multiple pathways to optimize their own potential for academic excellence, leadership, and social and emotional wellness. The mission of the Chelmsford Public Schools is to educate, engage, prepare, and empower well-rounded and knowledgeable learners to PERSEVERE through challenges, demonstrate RESPECT and INTEGRITY in their words and actions, are DEDICATED to their community, and display EMPATHY as global citizens while discovering and pursuing their full potential.  This PRIDE-driven culture enables all members of the school community to support the growth and development of students.  For more information, please visit www.chelmsfordschools.org.