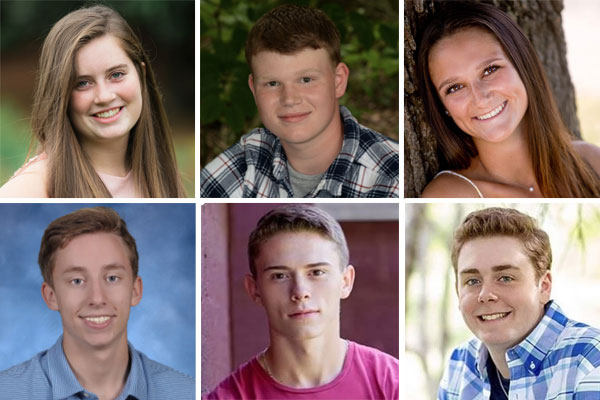 Chelmsford High School Announces May 2021 Students of the Month
in Newsletters
CHELMSFORD, MA (July 27, 2021) – Six seniors were recently honored as Chelmsford High School named its Lions Pride/Rotary Student of the Month recipients for the month of May, announced CHS Principal Stephen Murray.
Seniors Kyla Costantino and Will Ward were named from the Emerson House while John Nickerson and Katelyn Fox were honored from the Hawthorne House, and Joe Conley and Noah Luke from the Whittier House.
Sponsored by the Chelmsford Rotary Club for more than 30 years, the Student of the Month program recognizes outstanding students from each of CHS's three academic houses – Emerson House, Hawthorne House and Whittier House – for their achievements in and out of the classroom.
Kyla Costantino
A High Honor Roll student, Ms. Costantino is a member of both the National Honor Society and the National Spanish Honor Society and balanced the rigors of playing two sports and club involvement.
A member of both the field hockey and softball teams (the latter for which she served as captain), Ms. Costantino also spent her junior and senior years as a peer mentor to incoming freshmen. Though undecided on a major, she will attend the University of South Carolina this fall.
Will Ward
An Honor Roll student, Mr. Ward was cited for his long record of volunteerism within the High School and Chelmsford community, including Best Buddies, a one-to-one friendship/leadership program for individuals with and without disabilities.
Additionally, Mr. Ward is a volunteer at the Greater Lowell YMCA as well as his summer camp, and was the recipient of the PRIDE Award as a sophomore, which recognizes students who exemplify the core values of Chelmsford Public Schools: perseverance, respect, integrity, dedication and empathy.
Mr. Ward will attend Southern New Hampshire University this fall.
John Nickerson
A two-sport athlete with a rigorous course load, Mr. Nickerson has navigated classes such as English, Business and Career Pathways, Biotechnology, Engineering, MoneySmart, Calculus and Statistics – two of which are dual enrollment courses.
A member of Band, Jazz Band and Orchestra three of four years, Mr. Nickerson was also a member of both the hockey team and the baseball team (9-8), the latter which advanced to the MIAA Division I North Regional Tournament second round.
Mr. Nickerson plans to attend Westfield State in the fall where he will major in finance and continue playing baseball.
Katelyn Fox
A High Honor Roll student, Ms. Fox has maintained as demanding a course load as her outside schedule. Among the coursework she has taken includes Calculus, French 5, Angels and Demons, Physics, AP Literature, Honors Anatomy and Physiology, and Journalism.
Ms. Fox is the co-president of the GIVE Club and serves on the board of Peer Mentors, which earned her the Lion Service Award at the Class of 2021 Awards. The captain of the CHS ski team, she is also a member of the volleyball, track and field, and ski teams.
In addition, Ms. Fox was inducted into both the World Language and Science national honor societies. She plans to attend Simmons University where she will study nursing and eventually pursue a master's degree and doctorate en route to a career in pediatrics.
Joe Conley
Having achieved high honors each semester, Mr. Conley recently capped a very successful senior year in and out of the classroom. With a challenging course load that included the likes of Physics, Calculus, Environmental Studies, Architecture and Design, and Senior Odyssey, he remained active throughout the year as a Freshman Mentor, a member of Class Representatives and serving as a commentator for soccer and hockey broadcasts on Chelmsford Telemedia.
A four-year member of the varsity lacrosse team, Mr. Conley helped the Lions (14-1) to their first Merrimack Valley Conference championship in 17 years as well as the MIAA Division I North Tournament Semifinal. He earned several postseason honors including MVC Division I Player of the Year as well as All-Scholastic status by The Boston Globe.
The recipient of the Emerging Leader Award, Mr. Conley also serves as a volunteer youth lacrosse coach and official. He will attend Merrimack College in the fall as an undeclared Health Sciences major and a member of the Warrior lacrosse team.
Noah Luke
A four-year Honor Roll student (including high honors as a freshman and junior), Mr. Luke is a member of both the National Honor Society and the National English Honor Society while thriving in courses such as AP Psychology, AP Literature and Composition, AP French, Legal Rights and Responsibilities, and Calculus.
A member of the CHS Boys Basketball Team, Mr. Luke is also a volunteer coach with the Chelmsford Youth Basketball League (CYBL) and Lion League.
Mr. Luke will attend the University of Connecticut this fall where he plans to major in English, with the possibility of attending law school following graduation.
About Chelmsford Public Schools
The Chelmsford Public School District provides all students with multiple pathways to optimize their own potential for academic excellence, leadership, and social and emotional wellness. The mission of the Chelmsford Public Schools is to educate, engage, prepare, and empower well-rounded and knowledgeable learners to PERSEVERE through challenges, demonstrate RESPECT and INTEGRITY in their words and actions, are DEDICATED to their community, and display EMPATHY as global citizens while discovering and pursuing their full potential.  This PRIDE-driven culture enables all members of the school community to support the growth and development of students.  For more information, please visit www.chelmsfordschools.org.