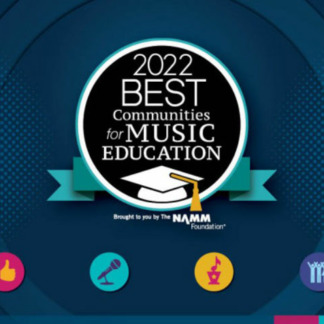 Chelmsford Public Schools Named Among NAMM Best Communities for Music Education for 10th Straight Year
in News
Chelmsford one of 10 Massachusetts school systems honored statewide
CHELMSFORD, MA (Apr. 26, 2022) – Chelmsford Public Schools was named among the Best Communities for Music Education by the National Association of Music Merchants (NAMM) Foundation for the 10th straight year, the Foundation announced Monday.
In its 23rd year, NAMM's Best Communities for Music Education award program recognizes outstanding efforts by teachers, administrators, parents, students and community leaders who have made music education part of a well-rounded education. Designations are made to districts and schools that demonstrate an exceptionally high commitment and access to music education.
The NAMM honor program is based upon several key factors of a school district's fine and performing arts program including funding, graduation requirements, music class participation, instruction time, facilities, support, and community programs. Responses to such are reviewed by the Music Research Institute at the University of Kansas.
"Our music teachers have never deserved this award more," said CPS Fine and Performing Arts Coordinator Dr. Christy Whittlesey. "These educators demonstrate on a daily basis how impactful a quality music program can be for our students, not only in developing students' musical knowledge and skills, but even more in supporting their emotional and social development and well-being. CPS music teachers deserve this recognition for their efforts, and we should all take pride in contributing to a community that values music-making in schools and beyond."
Chelmsford Public Schools returned to live, in-person performances at the end of the 2020-21 academic year with its original productions of The King is Dead and The Last Person on Earth. This year it has staged several concerts and musicals with several more scheduled over the last weeks of the school year.
The NAMM honor is the latest of several honors and accomplishments earned by CPS musicians and performers this year:
With its performances of the original play Faith and Despondency, the Chelmsford High School Theatre Guild advanced to the Massachusetts Educational Theater Guild Second Round on Apr. 2 and was named a regional winner. The production included original music by seniors Sachi Badola and Darius Sobhian.
In a very busy early February, 10 student-musicians were accepted into the Mass Music Educators Association (MMEA) All-State Ensemble among 14 who had qualified from the MMEA Northeast Senior District Music Ensemble in November. The 10 musicians performed at the MMEA All-State Ensemble at Symphony Hall on Mar. 5.
On Feb. 5, CHS hosted the 2022 NE Voices Festival at the Carl J. Rondina Performing Arts Center, which featured eight a cappellas representing six Massachusetts schools.
CHS's Leaders In Motion Everywhere (LIME) club raised $1,700 for the Clean River Project with its musical variety production 'In Tune,' on Feb. 11.
Over February Break, CHS's Orchestra, Band and Chorus, which encompasses more than 125 students, performed at Disney World.
In early March, CHS's two a cappella groups, The Thursdays and The Crescendos, each qualified for the International Championship of High School A Cappella (ICHSA) Northeast Region Semifinal. It marked the third straight year that both CHS a cappellas qualified, and seventh consecutive year The Thursdays qualified.
Chelmsford was one of only 10 Massachusetts school systems to earn the honor, which also included Merrimack Valley neighbors Andover, Billerica, North Andover, and Westford. Other Bay State school districts on the list were Duxbury, Lexington, Pentucket, Wakefield and Wayland.
About Chelmsford Public Schools
The Chelmsford Public School District provides all students with multiple pathways to optimize their own potential for academic excellence, leadership, and social and emotional wellness. The mission of the Chelmsford Public Schools is to educate, engage, prepare, and empower well-rounded and knowledgeable learners to PERSEVERE through challenges, demonstrate RESPECT and INTEGRITY in their words and actions, are DEDICATED to their community, and display EMPATHY as global citizens while discovering and pursuing their full potential. This PRIDE-driven culture enables all members of the school community to support the growth and development of students. For more information, please visit www.chelmsford.k12.ma.us.